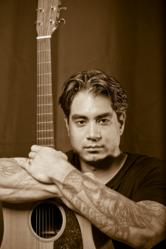 I can teach you all you need to know to play the guitar.
Fort Lauderdale, FL (PRWEB) February 06, 2012
Dyce's guitar lessons are geared towards the absolute beginner. However, unlike most other guitar teachers, Dyce focuses on getting students to play music—real grooves & songs—from their very first lesson. Dyce not only expertly illustrates the topic at hand—but more importantly he immediately shows students the correct application of that information. Dyce's methods are so solid, in fact, that anyone watching his videos will be able to start playing great-sounding grooves right away. In this lesson, that groove is the backbone of the classic rock hit, "Knockin' on Heaven's Door."
Lesson #5 targets the three chords that make up this timeless song: G Major, D Major and A minor. The lesson is a breeze to follow: Dyce's voice and guitar playing are crystal clear. Meanwhile, first-rate graphics featuring an easy-to-read guitar tablature make everything that much easier to absorb. Dyce also does a wonderful job of encouraging viewers to quickly integrate what they learn by playing along with the recording of "Knockin' on Heaven's Door" (in this case, Eric Clapton's version). With Dyce's methods and knowledge, this is possible for anyone—even the absolute beginner. As he states, "your playing will really take off when you start playing along with real music."
Dyce Kimura is a well-regarded Weston guitar teacher. A bona-fide full-time guitar teacher, Dyce ascended to the top of Miami's cut-throat music scene as a recording session pro and musician. For more than a decade, Dyce's Weston guitar lessons have been popular with absolute beginners of all ages. Now, with the power of YouTube, his Skype guitar lessons
are reaching students from across the world.
Dyce is also teaching a limited number of students via Skype. The only things required are a high-speed internet connection, a webcam and mic (standard on any newer computer), and a Skype account (easy to create). These Skype guitar lessons—as well as Dyce's Parkland guitar lessons are certainly a hit: they make learning guitar easy, and fun.
For more information on Dyce's latest free YouTube guitar lesson—or to sign up for a lesson via Skype—call 786 457 3687 today.
###