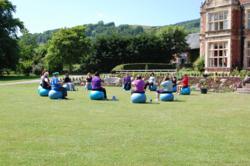 The UK's No.1 Weight Loss Boot Camp
(PRWEB UK) 6 February 2012
Established in 2006 as the UK's first residential weight loss boot camp. FitFarms has burnt off a lot of calories for women and more recently men up and down the country and overseas.
Stephen Cole FitFarms Managing Director explains that the company has seen over five thousand guest in 5 years. This year the fitness retreat have decided to give this very special complimentary week away as a thank you for the support that they have received since they opened.
There has been many changes over the years and return guest always comment on the improvements that have been made to the accommodation, schedule and staffing structure.
FitFarms only work with the very best in the industry. The nutrition programme is headed up by the former daily telegraphs nutritional therapist Julia FitzGerald. Julia works closely with french chef Anthea De La Roche on compiling a healthy but extremely tasty menu.
The behaviour therapy programme is planned and delivered by Gillie Sutherland who is often voicing her opinion in national magazines and papers.
FitFarms have even brought over personal trainer Zuzana Kubisova from Slovakia. Zuzana is well known for her vigorous sessions but also having a gentle and caring approach to helping the guest through the holistic fitness boot camp week.
FitFarms has softened their company image this year by bringing in fluffy dressing robes and a new cosmetic range that includes shampoos, soaps and shower gels. This has all been carefully designed to make guest feel more comfortable whilst they go through an intense exercise, nutrition and behaviour therapy programme.
The weight loss boot camp company will also be bringing out a new line of clothing called FitFarms Performance. Guest have the opportunity of buying the clothing online before they start the week. One of the points that is discussed in the weight loss retreat workshops is that if you feel good and look good ultimately you will have a good workout.
This year FitFarms will be running more fitness and weight loss retreats in the UK than they have ever run. The team are expecting a lot of past guest to enter their competition so they stand a chance of winning with the possibility of coming back onto one of the refresher programmes.
The weight loss camp competition will run until the end of the year so there is plenty of time to sign up. The grand prize is one week at the fitness retreat worth £1495. The prize includes food, five star accommodation, workshops and the FitFarms unique three month after care programme. The post course weight loss boot camp programme covers life coaching, nutrition and exercise just like the residential weight loss and fitness programme.
The results at FitFarms have improved drastically over the last few years when the company had a change of health manager. Gillie Sutherland has taken over and short term and long term fitness and weight loss is up by 20% at the UK FitFarms retreat.
###