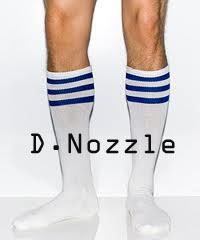 "Facebook Yourself," is my contribution to anyone suffering from the loss of love and I encourage anyone on the outside of loves' light to share it and post it as a form of therapy for their hurt. D. Nozzle
Nashville, Tenn. (PRWEB) February 09, 2012
As Valentine's Day approaches and lovers make the last minute scramble for candy, roses and restaurant reservations, a young and mysterious artist known only as D. Nozzle, has emerged with a song and music video that will likely resonate with jilted lovers of all ages. "Facebook Yourself" a single available now at iTunes and other popular music download sites, performed in the video by D. Nozzle, a nineteen-year-old from Nashville, Tenn., along with several of his fans and friends, chronicles the feelings associated with a break-up made public on Facebook, the most popular social media site in the world.
"The timing of our release so close to Valentine's Day is purely on purpose," said Nozzle. There is a plethora of ways available for lovers to express their feelings but little for those of us suffering from hearts that have been broken and beaten. "Facebook Yourself," is my contribution to anyone suffering from the loss of love and I encourage anyone on the outside of loves' light to share it and post it as a form of therapy for their hurt."
The video premiere and D. Nozzle's debut was held on Monday, Feb., 6th, at a private home in Brentwood, Tenn., while friends and fans as far away as France and Wales attended the event via a live Ustream feed broadcast on the D. Nozzle Facebook page. The event was emceed by D. Nozzle's close friend and country-music artist, Walker Hayes, and included interviews of attendees as well as an exclusive interview with D. Nozzle's ex. Highlights of the evenings' events can be viewed on the D. Nozzle UStream channel.
Nozzle is currently working on a follow-up single and is encouraging fans to connect with him on his D. Nozzle Facebook page. He is especially interested in learning of other bad Facebook breakups made public on the internet in an effort to help himself and others heal.
###