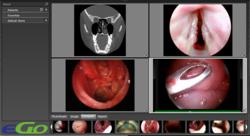 Patients are the clear winners with Envisionier eGoWorks' new HealthVault connection. Sean Nolan, Microsoft Distinguished Engineer.
Woodstock, Georgia (PRWEB) February 06, 2012
Envisionier, the leader in portable endoscopic capture and data integration, today announced the first endoscopic multimedia integration between Microsoft HealthVauland the eGoWorks® application. This connection enables a patient to access, view and share their endoscopic multimedia information stored within HealthVault, an online service for managing personal health information.
With a patient's permission, surgeons using eGoWorks services will have the option to share medical image exams and associated reports directly with a patient authorized HealthVault account. Patients will generate a secure challenge and password combination that will allow the patient to "pick up" the data and move it into their personal HealthVault record.
Envisionier's eGoWorks®, allows for full integration of endoscopic images or videos captured with existing video tower systems or endogoHD® to be incorporated into a HealthVault account. eGoWorks® cloud based archival and reporting system provides secure delivery of endoscopic images or videos to Smartphones and Tablet PCs for mobile endoscopists on call or offsite.
David Guy, Envisionier's CEO states, "By connecting with HealthVault, Envisionier seeks to improve the exchange of pertinent medical endoscopic data that has been tethered to legacy video tower systems or EMR systems unable to direct connect. The integration with HealthVault allows the patient to control their medical data "
"Patients are the clear winners with Envisionier eGoWorks' new HealthVault connection. Not only can individuals now easily share endoscopic multimedia and reports among members of their care team; they can also be confident that they'll have access to the information for years to come to better detect trends and changes in their health. We're excited to have Envisionier as an ally in our journey to empower patients to take charge of their family's care" stated Sean Nolan, Microsoft Distinguished Engineer.
eGoWorks®'s connection to HealthVault enables electronic movement of data rather than patients transporting records, reducing time and cost associated with redundant exams while additionally creating a longitudinal endoscopic record for the patient to share with primary care physicians and specialists.
ABOUT ENVISIONIER
Envisionier Medical Technologies, Inc. (http://www.envisionier.com), headquartered in Woodstock, GA is first to market with palm-held endoscopic imaging technologies and integrated endoscopy. More information about the endogoHD® and eGoWorks systems can be found at http://www.endogo.com.
# # #