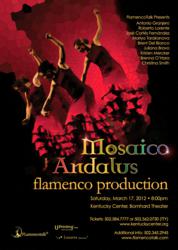 Granjero's blistering footwork is show-stopping. His feet move with such astounding speed that they virtually freeze in space, as we hear the lightning-fast thrum of his heels on the floor. -Gus Jr Solomons, Dance Magazine.
Louisville, KY (PRWEB) February 07, 2012
FlamencoTalk raises the bar again when it comes to delivering a top notch Hispanic cultural program many in the community have come to expect. On March 17, 2012 Kentucky Center's Bomhard Theater will welcome Antonio Granjero and Roberto Lorente as part of the stellar cast of international artists of Mosaico Andalus – a new flamenco production presented by FlamencoTalk.
Through a kaleidoscope of colors and emotions, Mosaico Andalus, or Andalusian Mosaic, will unravel the complex patterns of ancient flamenco forms that make up this art of contrasts. Age-old rhythms, coursing like a heartbeat through the movement of dancers, answering the passionate plea of the guitar and the laments of the cantaores (singers), create a palpable tension that's waiting to explode like a sonic boom in a fury that is flamenco.
Mosaico Andalus is directed by Antonio Granjero (Jerez de la Frontera) and will feature singers Roberto Lorente (Madrid) and José Cortés (Almeria), as well as other national and local talent.
"We are extremely fortunate to be able to have such an exceptional performing cast as part of our production", says director of FlamencoTalk Mariya Tarakanova, "these are brilliant performers, accomplished and well respected throughout the world of flamenco, and it is our honor and pleasure to be able to share the stage with them this March."
Watch FlamencoTalk's promotional video
"Granjero's blistering footwork is show-stopping. His feet move with such astounding speed that they virtually freeze in space, as we hear the lightning-fast thrum of his heels on the floor," said Gus Jr Solomons, Dance Magazine.
Maestro Granjero is one of the world's most respected and electrifying flamenco artists, who has performed across Europe, the United States and Japan, was a fixture of Spanish television and was the lead dancer in a special program for Queen Elizabeth II. He had the honor of performing at some of the most prestigious flamenco events in the world, including the Bienal de Sevilla and Festival de Jerez, accompanying Cañizares' Company. As part of his recent European tour Antonio has debuted a new show "Vaya con Dios" at the Bienal de Flamenco de Sevilla 2008. Granjero has performed in theatres throughout Israel, Italy, England, Switzerland, France, and Japan, was featured as a lead dancer in the International dance festivals of Bordeaux (France) and Todi (Italy), and had the opportunity to share the stage with such flamenco legends as Antonio Canales and Gerardo Nuñez. He was invited to represent Jerez during the International Exposition in Seville (EXPO 92), where he performed Alegrías with Domingo Ortega to critical acclaim by several national newspapers, including El Pais and ABC.
Roberto Lorente, a native of Madrid, Spain began this career in the prestigious tablaos of Madrid: Corral de la Moreria, Café de Chinitas, Las Carboneras, and Casa Patas at a very young age. He has since worked with important figures in flamenco as Eduardo Serrano "El Guito", Matilde Coral, La China, Manuel Reyes, Maria Juncal, Manuel Liñan, Marco Flores, Rafael Estevez, Concha Jareño, Domingo Ortega, and many others. Roberto has also had the pleasure of working with great flamenco singers Rafael Jimenez "El Falo", Jose Anillo, Miguel Ortega, Juan Jose Amador, Angel Gabarre, and Antonio Carmona among others, has traveled extensively performing throughout Spain, Mexico, Cuba, the United States, and Canada.
FlamencoTalk is a non-profit arts organization dedicated to preservation and promotion of Hispanic culture through the art form of flamenco. Founded in 2007, it provides high quality arts and educational programming ranging from flamenco music and dance classes to educational lecture demonstrations to full-scale theater performances featuring international flamenco stars.
FlamencoTalk presents traditional and contemporary flamenco music and dance works created in the best practices of authentic Spanish flamenco. The company has commissioned from and collaborates with some of the leading flamenco artists on flamenco scene today to present performances of the highest quality possible. The company features professional dancers and musicians and offers programming designed to accommodate a variety of venues and performance types.
###