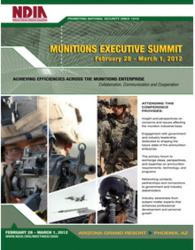 "The purpose of this year's Munitions Executive Summit will be to address the challenges of maintaining a stable and relevant munitions enterprise amidst an un-stable DoD budget outlook," says Tim Bagniefski
Phoenix, AZ (PRWEB) February 06, 2012
The United States' military strategy is changing; budget cuts, of more than $480 billion over the next decade, will force the Department of Defense to shift the focus of its military strategy from strength in numbers, to more innovative and efficient defense technologies. President Obama strives to create a "leaner and stronger" military for the United States by placing the emphasis on innovation in technology. There has never been a more vital time for the U.S. to strengthen its defense technology. Munitions technology, in particular, has a great opportunity to emerge with new developments and solutions for the U.S. war-fighter and its allies.
"The purpose of this year's Munitions Executive Summit will be to address the challenges of maintaining a stable and relevant munitions enterprise amidst an un-stable DoD budget outlook," says Tim Bagniefski, Vice President, Marketing, General Dynamics-Ordnance and Tactical Systems, and Munitions Representative. "This summit is intended to create a thoughtful and meaningful discourse on the critical factors that will shape the future munitions landscape. It will bring together key practitioners, within the ammunition and ordnance fields, to work on effective solutions for the U.S. war-fighter and its allies. Furthermore, this summit will explore the contemporary dynamics, which affect both the current and future industrial manufacturing complex, that services our war-fighting capability."
NDIA has put together a conference that will feature distinguished speakers and panels of subject matter experts to address the unstable DoD budget and attempt to "Achieve Efficiencies Across The Munitions Enterprise, through Collaboration, Communication, and Cooperation."
Notable speakers include, but are not limited to:

Honorable Sean J. Stackley, Assistant Secretary of the Navy, RD&A (Invited)
Dr. Marilyn Freeman, Deputy Assistant Secretary of the Army, R&T (Invited)
Mr. Lee Dixson, Robison International
Mr. Jose Gonzalez, Deputy Director, OSD Land Warfare & Munitions
Mr. Dave Brown, Defense Program Director, LLNL
VADM William E. Landay III, USN, Director, DSCA (Invited)
Mr. Michael S. Wilson, President, General Dynamics-OTS
Mr. Anthony Melita, Special Advisor, NWEC/DOTC Director
In addition to industry executives, this summit will be attended by key Government acquisition leaders, program managers, research and technology centers, and academia involved in the U.S. munitions enterprise.
To view the agenda, conference details, updates, or registration information regarding the 2012 Munitions Executive Summit, visit the event website: http://www.ndia.org/meetings/2650.
The National Defense Industrial Association (NDIA) is America's leading Defense Industry association promoting national security. NDIA provides a legal and ethical forum for the exchange of information between Industry and Government on National Security issues. NDIA members foster the development of the most innovative and superior equipment, training and support for warfighters and first responders through our divisions, local chapters, affiliated associations and events.
# # #