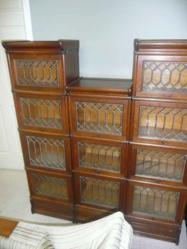 ...with such demand, we should let the market dictate what the price should be
Toronto, ON (PRWEB) February 06, 2012
Since Transition Squad opened its Consignment Outlet in October 2011, they have started developing a following of collectors, dealers and general public interested in unique used items that are priced well. One such item is a set of antique Barrister Bookcases that they recently started showcasing on Kijiji, through their e-letter and on their virtual estate sale at http://www.TransitionSquad.com/store.php.
Transition Squad is a project manager that helps seniors downsize and works with families going through a parent transition. One of their responsibilities is to help clear out the contents and maximize the value back to the client or their estate. Transition Squad holds estate sales at their clients' premises however, for things of higher value, they bring it to their consignment outlet and search for the right types of buyers. This has resulted in some significant gains for their clients while also delivering good value to prospective buyers.
One such item that is creating a buzz is a Barrister Bookcase, a vintage piece that has generated a lot of attention, so much so that they decided to not even put a price on it.
"We put it on our showroom floor just because we didn't have room to keep it in our preparation area while we were researching and pricing it" says Viraf Baliwalla, President of Transition Squad. "Almost every person that walked into the store was attracted to it and was anxious to know the price. Soon we realized that this was a signature piece and with such demand, we should let the market dictate what the price should be."
So Transition Squad posted the item online with a note saying that due to popular demand, they would not set a price, rather just take offers till a cutoff date, like an auction. Soon, offers started coming in for $1,200, then one for $1,500, then one for $1,800.
"We hope to generate much more interest in the next few days" says Baliwalla. "We get a lot of unique things, especially teak furniture. The outcome of this transaction will determine whether we take a similar approach to signature pieces in the future."
Transition Squad, started in 2005. and their Consignment Outlet primarily serves seniors, their families and consumer buyers in the Greater Toronto Area. For media inquiries, Viraf Baliwalla can be reached at (416) 249-4049 ext. 303 or viraf(at)TransitionSquad(dot)com.
###