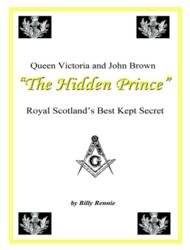 God Save the Queen and God Help the descendants of Queen Victoria and John Brown's "hidden prince".
Aberdeenshire, Scotland (PRWEB UK) 7 February 2012
Billy takes nothing away from the current Queen Elizabeth II achievements and believes she has been such a remarkable monarch in such turbulent times and has served her subjects far better than most have possibly realised. Within the month of February there is also many more special things to remember and within the covers of his recently published new book there shows a history of Queen Victoria that before now has only been public speculation, rumours, and whispers within Royal circles. This new evidence and living testimony is supported by the descendants of the hidden prince. Ironically they too will be watching the diamond jubilee celebrations for Queen Elizabeth II with great admiration and respect even when some of these "hidden" royalty are closer descendants to Queen Victoria than she is, Prince Charles is, and indeed William and Harry are, through Queen Victoria's secret child to a Scotsman. This child prince was born in November 1861 and hidden away with John Browns family in the heartlands of Scotland. This means the boy was conceived by the lovers sometime in February 1861. Romance over Valentine's Day perhaps?
Billy concludes by saying, "Every child has the right to know their given parentage, lineage, and heritage. It is equally important that the parentage, lineage, and heritage recognise their children no matter what their position in society, with no exceptions. There are not rules for one and rules for others as we are all answerable to God. I only wish that the, until now secret family and this important part of our history is given and shown the importance and recognition that is deserves. It is a romantic part of Scottish and United Kingdom history that should not be lost or ignored. They stand amongst us proud and free with blue blood of the Royals all the way back in the family tree but are not recognised or invited to Queen Elizabeth's diamond Jubilee."
You can download or order this paperback book via Dorrance Publishing, Amazon for Kindle, Barns and Noble for Nook, and many other online bookstores, or by contacting the author.
# # #