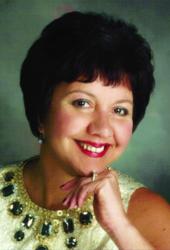 "If you can't read Louie Morelli's Daughter on a South Florida beach, you'll feel like you're there."
Detroit, Michigan (PRWEB) February 07, 2012
Patricia Bellomo, is initiating a special "Buy Your Sweetheart A Book" deal in honor of Valentine's Day. From now through the end of February the crime novelist is selling signed copies of her thrillers for 12.99 each plus shipping and handling.
The author's books include Stella di Mare(2010), a glitzy romantic thriller set in glamorous South Beach, and the recently released Louie Morelli's Daughter (2011). In this second book Patricia Bellomo's main character, mobster Louie Morelli, launches a rescue mission after his beautiful daughter goes missing. Louie Morelli's Daughter is also set in sunny South Florida.
Those familiar with Patricia Bellomo's books and blog know that Louie lives in Delray Beach and that her characters frequent many of South Florida's swank restaurants and hotspots. This always adds a touch of local color, although in Louie Morelli's Daughter there is a strong kickback to the author's hometown of Detroit, particularly suburban Macomb County.
Patricia Bellomo writes crime thrillers with a mob-related twist. With the glitz and style of an HBO series the author's novels and blog provide superior entertainment for readers of crime-fiction, as well as mystery and suspense. She also scores big with readers of romantic thrillers.
"Women love to read," says the author. "And I can't think of a better way to escape the cold, gray days of winter than with a good book." One reader of Louie Morelli's Daughter puts it this way, "If you can't read it on a South Florida beach, you'll feel like you're there."
Patricia Bellomo is writing a character series, but she wants potential readers to know that her books are non-sequential. "You won't need to read Stella di Mare to enjoy Louie Morelli's Daughter or vice-versa, but I do hope you will read and enjoy both books."
"Buy Your Sweetheart A Book" at the special price of $12.99 per book is available through February 29, 2012. Each book is priced at $12.99 plus $3.99 per shipping and handling. This offer is good for signed copies of books purchased directly from the author via her website.
For more information on this special Valentine promotion and on Patricia Bellomo's books and blog, visit her website.
Louie Morelli's Daughter and Stella di Mare are also available on Amazon.com, all on-line retailers and major booksellers. Her books are in e-reader format, including Kindle, Nook, and other e-readers. She is also available on UK Amazon.
###