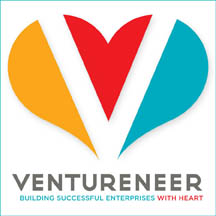 We need to help women entrepreneurs find the resources they need, whether it's financing or a new way to evaluate risk.
New York, NY (PRWEB) February 06, 2012
Women-owned businesses have the potential to be the driving force behind an economic rebound, according to Kauffman research Overcoming the Gender Gap: Women Entrepreneurs as Economic Drivers. But, if changes aren't made in attitudes and opportunities, that potential is unlikely to be realized, as shown by The American Express OPEN State of Women-Owned Business report.
Geri Stengel, founder of Ventureneer.com and longtime advocate of entrepreneurship and women entrepreneurs, believes women need more mentoring, networking, and access to practical information that will guide them in financing, risk-tolerance, and making the leap into the high-growth stage of business.
"We need to help women entrepreneurs find the resources they need, whether it's financing or a new way to evaluate risk," Stengel says.
With that in mind, Stengel is contributing a new column to Inc.com, called Women Without Ceilings and Breaking Barriers for Forbes.com as well as continuing her own blog, Vistas, and providing guest blogs to Women 2.0.
Stengel has also set up Guiding the Way for Ambitious Women Entrepreneurs, now, in beta. It is a one-stop resource center for women entrepreneurs that consolidates information on financing, management, starting out, and breaking through the $1 million revenue ceiling. Until now, such information has been hit-or-miss, here and there, with no "big picture," no step-by-step guidelines, and no hand-holding.
The site will aggregate articles from top-notch sources, augmented with articles by Stengel, who is now researching the factors that help women-owned businesses break through that $1 million ceiling.
About Geri Stengel
Geri Stengel is founder and president of Ventureneer, former adjunct professor of entrepreneurship at The New School, a Kauffman FastTrac GrowthVenture facilitator, and past board member of the New York City Chapter of the National Association of Women Business Owners.
A graduate of the corporate world, Geri conducted market research for The Wall Street Journal and headed marketing for Dow Jones' online services before the Web. She launched a consulting firm that serves small businesses, social enterprises, and nonprofits and co-founded the Women's Leadership Exchange.
About Ventureneer
Ventureneer.com connects values-driven small business owners, social entrepreneurs, and nonprofit leaders with the knowledge they need to make the world a better place and to thrive as businesses. At Ventureneer, entrepreneurial and nonprofit training and advice are practical, accessible, and affordable. For corporations, Ventureneer provides content marketing that attracts small business and nonprofit prospects, converts them into customers and builds loyalty to your brand.
###