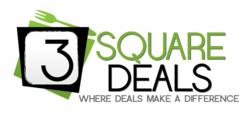 3SquareDeals.com represents the next generation of Daily Deal sites by not only saving consumers money and driving new traffic to merchants, but also by giving back to worthwhile charitable programs.
Brielle, NJ (PRWEB) February 08, 2012
3SquareDeals.com is a new and very unique Daily Deals program launched this month by Foxtrot Media LLC, owners of JerseyBites.com a four year old collaborative website of food writers in New Jersey.
Since its inception in 2007, Jersey Bites has worked with New Jersey's food banks on several occasions to help spread the word about the need for donations including the "Blogging Out Hunger" campaign spearheaded by Owner and Executive Editor, Deborah Smith.
"When I heard the statistics on how the demand for hunger assistance had increased in New Jersey over the past five years, I wanted to do more than just write about hunger relief. A deals program that marries my knowledge of online marketing, social media marketing and food, seemed like the perfect solution," explains Smith. 3SquareDeals.com will donate 10% of the proceeds of each deal to the three major food banks of New Jersey.
3SquareDeals.com represents the next generation of Deal sites which not only saves consumers money and drives new traffic and revenue to merchants, but also gives back to charitable programs. "In today's highly competitive Deals market, a new program has to do something different. The response to this new concept has been extremely positive. The average consumer is bombarded with so many offers, every day. We needed to give the consumer more reasons than just a good deal. Saving and sharing at the same time, does it get any better than that?" asked Deborah.
Another factor that sets 3SquareDeals apart from other known deals programs is that the focus will be exclusively on food deals: Restaurants, Gourmet Food Stores, Wine and Beer and Culinary Experiences. First deals included The Mill in Spring Lake Heights, LongBoard Grill in Point Pleasant Beach and The Wine Loft in Long Branch.
The website prominently displays the logos of the three overarching hunger relief organizations that 3SquareDeals will be raising funds for, including The Community FoodBank of New Jersey, the FoodBank of Monmouth and Ocean Counties and the Food Bank of South Jersey. The site also plans to hold special "Deal Weeks" for local, smaller hunger relief organizations where a Deal a Day will be offered featuring local merchants and all donations will be earmarked for the particular organization. Each organization will also receive a dedicated story on JerseyBites.com.
"In Monmouth and Ocean Counties alone the need for hunger relief has risen 80% over the past 5 years. For children it has risen 150%." according to Linda Keenan, Director of Development for the FoodBank of Monmouth and Ocean Counties. Monetary donations are exceptionally valuable given the food bank's purchasing power which allows them to stretch $1 into 3 meals. Using this formula, 3SquareDeals will be keeping a running tally on the site of the meals the deal purchases have been able to provide.
"When I was first contacted about the three square deals concept I was immediately struck with an ah ha moment. For New Jerseyans to save on food for themselves and at the same time feed the hungry in our state seemed like something that would resonate with people. I immediately thought this was a brilliant idea." Richard J. Uniacke, Director of Marketing, Community FoodBank of NJ
For More Information and Interview Opportunities with Deborah Smith and representatives from any of the Food Banks mentioned contact Jon V. Faronea. jon(at)netwaveinteractive(dot)com
###