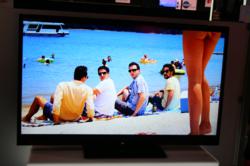 Sharp's Smart Central TV gives you up to 3 unique profiles to allow you to access your own personal profile preferences.
Atlanta, GA (PRWEB) February 16, 2012
LCDTVBUYINGGUIDE.COM Editors have written detailed features reviews and first impressions (prior to in-house calibration) reviews based on close up private viewing and inspection of many new Sharp LED-LCD TV 2012 models. "We are surprised by the consistent large sizes from Sharp as well as the new portable televisions they may be introducing later this year. The biggest surprise from Sharp though is their commitment to the new 4K TV technology which they plan to ship later this year." LCD TV Buying Guide lists all Sharp LED TV 2012 models on its Sharp Buying Guide page for easy review. According to the company there are a total of 11 new 2012 models of LED TVs and one LCD TV model.
According to the company, among the many new impressive models Sharp is introducing for 2012 is the massive 70" Sharp LC-70LE945U Review which has the best feature set Sharp has to offer including full Internet TV access, a web browser and lots of interactive features. This TV is 1080p with LED backlighting the LCD panel. Comments reviewer Jack Burden, "Price to size is a big deal with Sharp and this is a huge LCD TV. This 70" Goliath is a full 75% larger in viewing area than a 55" TV – and a 55" inch screen is huge if you've ever viewed one in person."
Other Sharp models the company has recently reviewed consist of 60" models the Sharp LC-60LE945U Review and the Sharp LC-70LE847U Review, for which the reviewers comment, "Sharp's Smart Central TV gives you up to 3 unique profiles to allow you to access your own personal profile preferences. It's a separation tool to help you navigate the Smart TV Internet options and save your individual settings.
Other LED TV Reviews from Sharp were the Sharp LC-60LE745U Review which is a more value oriented offering according to reviewers, "The LC-70LE745U has a black brushed aluminum metal bezel framing. It's thin and the matte finish leaves no annoying glare from in-room light. The TV is thin at just slightly more than an inch in depth and the sides of the frame are very thin at .7" in width."
Consumer Electronics Advisory Group Inc. operates several premier buying guide websites, including plasmatvbuyingguide.com, and lcdtvbuyingguide.com, among others. Online since 1999, the company provides objective and thoroughly researched information through professional reviews performed by seasoned reviewers. Editors Robert Wiley and Jack Burden have been reviewing televisions since the first commercial plasma TVs hit the market in year 2000. ISF calibrator John Wirtz has been calibrating televisions professionally for 10 years. The company adheres to strict testing guidelines using the highest caliber equipment. Company web sites have more than 15 million unique visitors each year in the fast growth consumer electronics industry.
###