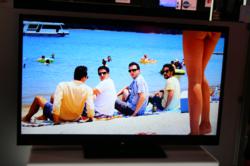 The biggest surprise from Sharp though is their commitment to the new 4K TV technology which they plan to ship later this year."
Atlanta, GA (PRWEB) February 28, 2012
LCDTVBUYINGGUIDE.COM Editors Robert Wiley and Jack Burden have released detailed features reviews (prior to in-house calibration) reviews based on close up private viewing and inspection of many new Sharp LED-LCD TV models for 2012. "We are surprised by the consistent large sizes from Sharp as well as the new portable televisions they may be introducing later this year. Picture performance appears to maintain high standards even on these very large TVs. The biggest surprise from Sharp though is their commitment to the new 4K TV technology which they plan to ship later this year." Stated Burden.
According to the company, among the many new impressive models Sharp is introducing for 2012 is the massive 80" Sharp LC-80LE844U LED TV Review which has many of the best features Sharp has to offer including full Internet TV access, a web browser and lots of interactive features. This TV is 1080p with LED backlighting the LCD panel. Comments reviewer Jack Burden, "This very advanced mammoth TV has a lot to offer in both the features and value category. For those looking to replace your home theater screen with an edge lit LED television this may be your panel. Features include a true 240Hz panel, Quattron 4-color pixels, and the upgraded Smart TV Central."
Other Sharp models the company has recently reviewed consist of 60" models the Sharp LC-60LE945U and the Sharp LC-60LE847U, for which the reviewers comment, "Sharp's Smart Central TV gives you up to 3 unique profiles to allow you to access your own personal profile preferences. It's a separation tool to help you navigate the Smart TV Internet options and save your individual settings."
Other LED TV Reviews from Sharp were the Sharp LC-70LE640U Review which is a more value oriented offering according to reviewers, "The LC-70LE640U and Sharp LC-60LE640U are 70" and 60" televisions in which Sharp is trying to deliver huge value, lots of screen size for the money. The LC-70LE640 Shares the lowest end, best price spot in the Sharp features category with the highly successful LC-80LE632U. This LED Television has all of the features of the bottom tier LE540U line but in larger sizes. Dont let the offering of features fool you though, you still get the upgraded 120Hz frame rate conversion, the just over 1" depth, the full Sharp Smart TV features, and Aquos Advantage live support. The LE640U series does not contain Sharp's signature 4-color Quattron panel, and instead has a normal 3-color RGB pixel design."
Consumer Electronics Advisory Group Inc. operates several premier buying guide websites, including plasmatvbuyingguide.com, and lcdtvbuyingguide.com, among others. Online since 1999, the company provides objective and thoroughly researched information through professional reviews performed by seasoned reviewers. Editors Robert Wiley and Jack Burden have been reviewing televisions since the first commercial plasma TVs hit the market in year 2000. ISF calibrator John Wirtz has been calibrating televisions professionally for 10 years. The company adheres to strict testing guidelines using the highest caliber equipment. Company web sites have more than 15 million unique visitors each year in the fast growth consumer electronics industry.
###