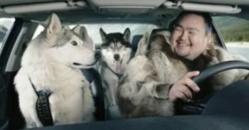 "We are pleased to be a part of Suzuki's 2012 Super Bowl campaign effort," says BARKCODE® co-founder Laura Erickson. "Man and Man's best friend will both enjoy the festivities of Super Sunday"
Los Angeles, CA (PRWEB) February 05, 2012
BARKCODE® announced today that on Super Bowl Sunday, they will partner with Suzuki to give away BARKCODE® tags to the first 1,000 households that register on http://www.KizashiKicks.com. Each personalized pet identification tag has a scannable 2D code, making it easy for pet owners to be reunited with their four-legged friends when they are lost or even misplaced during a natural disaster. With each tag that is ordered through the Kizashi Kicks website, BARKCODE®, on behalf of Suzuki, will donate three dollars to the American Red Cross1 for disaster relief and preparation to help people and pets. For additional information on BARKCODE®, please visit http://www.barkcode.com/.
"We are pleased to be a part of Suzuki's 2012 Super Bowl campaign effort," says BARKCODE® co-founder Laura Erickson. "Man and Man's best friend will both enjoy the festivities of Super Sunday." With nearly 300-million Americans carrying a cell phone with them every day, utilizing mobile phone technology makes BARKCODE's 2D Code Pet ID tag the "most simple, direct and universal method to reunite a lost pet," said Erickson. A person finding a lost pet with a BARKCODE® tag can simply scan the code and within seconds view the pet's personal profile, accessing multiple contact numbers, medical history, vaccination records, license and/or microchip information, reward comments and more.
Each BARKCODE® PET ID Tag also has the pet's unique url address printed on the tag that will allow anyone with internet connection to find a lost pet profile page to help that pet home. Now even if the owner cannot be reached, the finder can simply scan the lost pet on the spot to access multiple back up contacts, eliminating the need to take the pet to an overcrowded shelter. And although scanning the BARKCODE® ID Tag with the Free ScanLife App can take as little as 6 seconds, the finder can also access the pet's profile without a Smartphone by simply taking a picture of the code and MMS to 43588.
Two out of three pets that enter a shelter never make it out. And, despite the advent of the microchip 3 decades ago, every minute of every day, more than 13 family pets are unnecessarily euthanized. That's more than 7 million dogs and cats per year. "The pet euthanasia statistics are just unacceptable and we wanted to truly come up with an affordable pet recovery system that could absolutely make a difference. "Marrying the latest mobile phone technology with BARKCODE® 2D Code Pet ID tags was a natural, " states Erickson.
BARKCODE® will also be announcing some exciting news with The American Red Cross soon. Click to receive exciting updates about the American Red Cross announcement and other BARKCODE® Newsroom and Media information.
1The American Red Cross name and emblem are used with its permission, which in no way constitutes an endorsement, express or implied, of any product, service, company, opinion or political position. On those rare occasions when donations exceed Red Cross expenses for a specific disaster, contributions are used to prepare for and serve victims of other disasters. The American Red Cross logo is a registered trademark owned by the American Red Cross. For more information about the American Red Cross, please visit http://www.redcross.org.
About BARKCODE®:
BARKCODE® was founded in 2008 with the sole mission of becoming the leader in the pet recovery industry by creating the most direct and universal method for reuniting lost pets with their families. With more than 285-million cell phone users in the U.S., BARKCODE®'s non-invasive approach combines the most widely used mobile device with the very latest in 2D Code technology. BARKCODE is proud to be the exclusive reseller of ScanLife for all pet ID products. Based in southern California, BARKCODE® donates a portion of its proceeds to no-kill animal facilities and is currently working on developing partnerships with disaster relief organizations, pet rescues and adoption agencies. Click here for Media information and digital assets.
Media Contact Laura Erickson
Tel: 310-806-2000
Email: lerickson(at)barkcode(dot)com
About Scanbuy
Scanbuy is the leading global provider of mobile barcode solutions that use the camera phone to connect the physical and digital world. Its ScanLife solution consists of a multi-barcode reader application with millions of users who access product information, coupons, and more. The Code Management Platform is used by thousands of media companies and marketers to create and manage measurable mobile barcode campaigns.
Since 2008, the technology has been successfully deployed by leading mobile operator providers including Verizon Wireless, Sprint, Telefonica Spain, America Movil, Orange, and others. Scanbuy receives traffic from over 30 countries around the world every day, and is headquartered in New York City with local offices in China, Mexico, Chile, Denmark, France, Spain, and the UK. Scanbuy has the largest and oldest patent portfolio of any company in the industry, with over 30 patents granted covering the entire solution. The company is privately held with investors including Motorola Mobility and Motorola Solutions Ventures, Hudson Ventures, and Masthead Venture Partners.
For more information on Scanbuy, please visit http://www.scanbuy.com or http://www.scanlife.com.
Media Contact Tel: +1 212-278-0178
Email: press(at)scanbuy(dot)com
About Suzuki Auto
The Brea, Calif.-based Automotive Operations of American Suzuki Motor Corporation was founded in 1963 by parent company Suzuki Motor Corporation (SMC) and currently markets its vehicles in the United States through a network of approximately 250 automotive dealerships and numerous other motorcycle, ATV and marine distributors. With global headquarters in Hamamatsu, Japan, SMC is a diversified worldwide automobile, motorcycle and outboard motor manufacturer. In 2010, SMC sold more than 2.5 million new cars and trucks and more than three million motorcycles and ATVs. In 2011, Suzuki was ranked #2 in total vehicle sales behind Toyota and ahead of Honda and Nissan. Founded in 1909 and incorporated in 1920, SMC has operations in 193 countries and regions. For more information, visit http://www.media.suzukiauto.com. Suzuki can also be found on Twitter (@SuzukiAuto), Facebook (http://www.Facebook.com/SuzukiAuto) and YouTube (http://www.YouTube.com/SuzukiAutomotive).
Media Contacts:
Jeff Holland, American Suzuki, (714) 996-7040 ext. 2006, jeff(dot)holland(at)suz(dot)com
Andrew Nicolai, Citizen Paine, (949) 809-6786, andrew(dot)nicolai(at)citizenrelations(dot)com
# # #