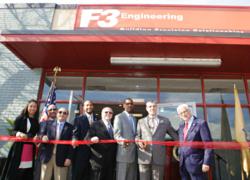 The employees of F3 Engineering have had the heart to make this company successful and to make Paterson work.
Paterson, NJ (PRWEB) February 06, 2012
Dignitaries, customers and representatives from community organizations were on hand January 31 as F3 Engineering, an aerospace engineering and manufacturer of mission-critical applications, officially cut the ribbon on its new manufacturing headquarters located at 25 McLean Boulevard in Paterson, NJ.
"It's hard to believe that a little more than a decade ago, F3 Engineering was a small start up with only a handful of employees in the technology incubator at Picatinny Arsenal," Odilo Vazquez, PhD, president and managing partner of F3 Engineering told the crowd of more than 100 in attendance. "Today, we are 53 employees strong, and in our third home, including our second location in Paterson in less than six years."
The new location is 88 percent larger than F3's previous facility on East 26th Street, doubling office and parking space and tripling electrical power supply. The move from the 27,000-square-foot facility to the 50,000-square-foot headquarters began in November 2011. F3 remains within Paterson's HUBZone (HUBZone is a United States Small Business Administration program for companies that operate and employ people in Historically Underutilized Business Zones).
"In school, I learned about the importance Paterson played in the history of manufacturing," said Congressman Bill Pascrell during the ceremony. "Manufacturing is the foundation upon which any strong economy is built. We must support American companies like F3, who are bringing back jobs to the United States."
"The employees of F3 have had the heart to make this company successful and to make Paterson work," added Paterson Mayor Jeffrey Jones. "The City of Paterson takes no credit for what the leadership and people of this company have done. The city has only extended a hand in partnership and done what we should have. We hope F3 continues to prosper and make Paterson great."
Others making comments and offering congratulations at the event included Small Business Administration New Jersey District Director Al Titone, Passaic County Freeholder Director Pat Lepore and senior project specialist Talia Young on behalf of Senator Frank Lautenberg.
The company's relocation was necessitated by an impressive boost in contracts awarded over the past 18 months, including the addition of depot services, which involves inspecting and repairing support equipment that was damaged in use in the military theater. F3 has the capability to make the needed repairs and return the equipment for ongoing use.
Additionally, Vazquez announced in the last quarter of 2010 that the company was planning on adding 100 jobs to its payroll over the next five years. To date, fourteen positions have been added plus four student interns; many are residents of the Paterson area.
About F3 Engineering
F3 Engineering is a provider of technology, products and services in military and commercial mission-critical applications. With the resources and technical expertise to prototype and manufacture highly complex products, F3 brings technical, administrative and managerial resources together to provide a total program of complex engineering and contract manufacturing solutions. For more information on F3's dedication to providing technical guidance and support to its customers, visit http://www.f3engineering.com or call Ken Rosenbaum, General Manager at (973) 442-2290.
###