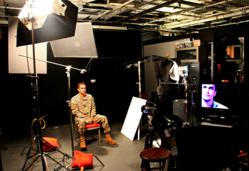 In the veteran population, 30% of troops face a mental problem within four months of returning home - Department of Veteran Affairs
San Diego, CA (PRWEB) February 13, 2012
Many returning veterans and Americans suffer from undiagnosed mental health conditions that can, without detection and intervention, lead to increasing strains on society. According to the most recent study of mental heath costs, the NIMH estimates healthcare accounted for 16% of the nation's GDP in 2006 ($2.1 Trillion) with mental disorders accounting for an estimated 6.2% ($131.7 Billion)[1]. This figure does not account for "indirect costs" such as crime, homelessness, and welfare. With healthcare costs rising to 17.7% of the nation's GDP in 2011 [2], London's Department of Health concluded that early detection and prevention can help combat the increasing costs of mental illness, yielding significant long and short term savings [3].
After a decade of war, service men and women face a myriad of internal wounds. In the veteran population, 30% of troops face a mental problem within four months of returning home [4] with "lower-bound health care costs" of PTSD alone reaching $1.5 to $2.7 billion [5]. Beyond dollars and the individual sufferer, mental illness can devastate families and communities. Detecting and understanding the signs of mental illness before they escalate is vital to our troops and nation. To help address this need, Symptom Media recently released a series of diagnostic videos covering a variety of military topics.
Each film, guided by the Diagnostic and Statistical Manual (DSM-IV-TR), offers visual guideposts to clinical diagnoses, dramatically augmenting the standard written descriptions. Unlike instructional videos or documentaries that focus on telling information, Symptom Media's videos show the symptoms unfolding, inviting viewer participation, interpretation, analysis and discussion. The range of symptoms can be as nuanced as an actual patient or more pronounced for easy understanding. Maintaining a high standard of clinical accuracy, a multi-disciplinary behavioral health team collaborates with professional filmmakers and actors in all aspects of film production.
Kevin Marrone, a professor of psychology at Webster University, uses Symptom Media in his graduate level clinical training. He finds the videos help his students "make sense out of the diagnostic criteria that they had been reading about in their DSM." By utilizing this visual aid, his students could now "not only tell me what a major depressive episode was but could visually describe it and recognize it." Instead of acquiring these recognition skills over a long period of time in front of patients, students are equipped with this knowledge upon leaving the classroom.
Behind the performances, Symptom Media employs a variety of professional actors, including those personally touched by the conditions they portray. Robert Leohnard, who participated in a fictionalized Symptom Media vignette, served 12 months in Iraq as a convoy escort near Nassiria. Diagnosed with PTSD, Robert experiences first-hand the effects of panic attacks and flashbacks as a result of his time overseas.
With the help of treatment, Robert continues his successful career as an actor and lawyer, providing pro bono legal services to veterans. Drawing from his experiences with PTSD, Robert adds another layer of realism and texture to his performance. When seen through the lens of a clinician, Robert's vignette demonstrates "immature coping mechanisms with severe anger… wishing to reverse events by seeking violent revenge, otherwise labeled as 'acting out.'" To watch a sample of Robert's Symptom Media PTSD film please view the embedded video above or go to Symptom Media's sample film page.
Spearheading this new initiative is Dr. Donald Fidler, recently retired endowed Chair of Psychiatry at West Virginia University with over 30 years of clinical experience. Simultaneous to his psychiatric work, Dr. Fidler pursued his other passions: screenwriting, acting, filmmaking, and teaching drama. During this dual career, Dr. Fidler successfully fused the two fields, using the inner workings of psychiatry to train his acting students, and using actors and drama to train his psychiatry students and residents.
Early symptom recognition supports prevention and intervention, resulting in the most hopeful opportunity for needed services and realized cost savings. Symptom Media's newly released military series represents one way to enhance and improve behavioral health training, detection and symptom recognition within our military and veteran populations.
Other Military Sample Videos:
*Adjustment Anxiety Disorder
*Major Depressive Disorder
*Post Traumatic Stress Disorder with Traumatic Brain Injury
Non-Military Sample Videos:
*Anxiety Disorder NOS
*Dissociative Amnesia
*Major Depressive Disorder with Postpartum Onset
References:
1. American Journal of Psychiatry (2008), Thomas Insel, MD. "The Global Cost of Mental Illness" NIMH.org Sept. 28, 2011
2. The Healthcare Investor, Amber Walsh, "Studies Show US Healthcare Spending Still Slowly Increasing, Reaching 17.7% of GDP," March 29, 2011.
3. London's Department of Health, "Mental Health Promotion and Prevention: The Economic Case" published January 2011.
4. Department of Veterans affairs, Iraq and Afghanistan Veterans of America ptsd.va.gov
5. "The Psychological Cost of War: Military Combat and Mental Health" Resul Cesur, Joseph Sabia, Erdal Tekin March 2011
###