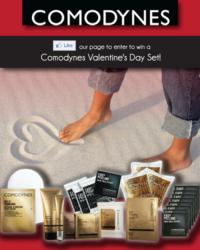 Seattle, Washington (PRWEB) February 06, 2012
DNA Response, Inc., a provider of multi-channel e-commerce, marketing and order management solutions, has launched a Valentine's Day Facebook Sweepstake for its web store BuyComodynes.com and will be giving away two Valentine's Day beauty sets.
Facebook users have a chance to win one of two beauty sets filled with Comodynes products, perfect for a day of pampering. The products include four self-tanning towelettes, two EZ facial peeling towelettes and one set of makeup remover towelettes, about a $30 value.
To enter, users must "Like" the Comodynes fan page and enter their name and email address into the sweepstakes form. The two winners will be announced on Wednesday, February 15, 2012.
Comodynes has taken Hollywood by storm, attracting fans like Jennifer Aniston, Tori Spelling and Mally Roncal (makeup artist to Jennifer Lopez and Beyonce). The Comodynes Self-Tanning Towelette is the most popular product. These individually packed towelettes are perfect for traveling or an on-the-go lifestyle. They are small, portable and don't leave a mess, unlike most creams and sprays. These towelettes provide an even, natural tan in just three hours, with absolutely no streaking.
Other best-selling Comodynes products include the makeup remover wipes, which cleanse, tone and moisturize your skin in one single swipe. They are easy to use and an effective, complete facial cleansing system. These towelettes are no-mess and no-fuss, allowing you to clean your face wherever you are. They were also featured by Laurie Hibberd on CBS's "The Early Show" as one of the top five makeup must-haves.
About DNA Response. DNA Response, Inc. (DNA) provides turnkey e-commerce, online marketing, and order management services to companies in the $300 Billion direct response market. DNA clients sell products direct to consumers using TV, radio, print catalogs, web and mobile as their sales channels. DNA's ECOM2TM platform utilizes state-of-the art cloud computing technologies and services to improve operational efficiency by reducing transaction costs, eliminating credit card declines, and lowering order cancellations and product returns, while simultaneously increasing online revenue for our clients. DNA provides universal order management for processing orders in real time from all the sales channels with full visibility to the business for the clients. DNA generates incremental revenues and helps build a brand for our clients by providing comprehensive e-commerce and online marketing services.
###