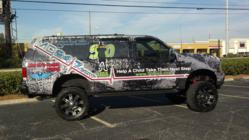 Tampa, Florida (PRWEB) February 07, 2012
Seminole Florida based telemedicine provider MD247.com is proud to announce it will be assisting professional wrestler Steve Chamberland, of the 50 Legs Foundation, in his quest to provide a prosthetic leg to fifty different amputees in fifty states over the course of fifty weeks.
Steve Chamberland's 50 Legs Foundation finds its roots in the story of Anaiah Rucker, a child from Georgia who put the health and safety of her own sister above her own and lost a leg in the process. The actions of Anaiah inspired Chamberland, an amputee himself, to work with a friend who is a prosthetic limb maker to fashion a prosthetic leg in only three days. The process was unheard of due to not only the speed and quality creation of the prosthetic limb, but also due to 100% donated materials used in the creation of the new leg. Empowered by giving young Anaiah back a level of freedom, Chamberland made the promise to provide one "new leg" in each state over the following fifty weeks.
The people behind the MD247.com brand, like Chamberland, are passionate about changing the world one life at a time. The MD247.COM team feeds their passion not with limbs, but by providing members with improved health by being available 24/7 to all member inquiries no matter "whom" you are or "who" you know. In addition to being a 24/7 telemedicine resource for the world at large, MD247.COM also provides people the opportunity to bring their family financial freedom with the MD247.COM brand. Be it by health, or by wealth, MD247.COM wants to see everyone live a brighter and lighter life.
MD 247 is a twenty-four hour a day affordable concierge telemedicine company based out of Seminole Florida. All members have unlimited telephone access to a nationwide medical support team with just a phone call. MD247.com has a virtual platoon of Registered Nurses and board certified physicians available to members for ALL non-emergency situations. You can learn more about MD247.com by visiting http://www.md247.com.
###