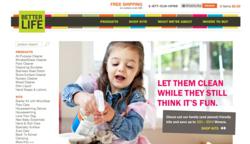 They have made the site extremely fun with lots of great color and pictures, but it is so easy to order new products, put together cleaning kits, and learn about green cleaning
St. Louis, MO (PRWEB) February 07, 2012
Better Life Maids co-branded retail partner Better Life this week launched a new and improved website that enhances the user experience, and makes ordering all of the Better Life natural household cleaning products extremely simple. The new site features major improvement in functionality, has limited time promotional pricing on all of its products, free shipping on orders over $25, and integrations with other platforms such as Facebook, further enhancing the consumer experience.
Better Life's new site is not only fun to look at, it is extremely easy for consumers to use. It provides an integrated shopping experience, and it also provides a great deal of education on the products and what makes them a safer alternative to traditional house hold cleaning products, as well as many of their "green" competitors.
"I am extremely excited about the new Better Life site. It is a great example of why we partnered with Better Life to grow our green house cleaning franchise. They have made the site extremely fun with lots of great color and pictures, but it is so easy to order new products, put together cleaning kits and learn about green cleaning," said Matt Ricketts the President of Better Life Maids.
All of Better Life's natural household cleaning products can be purchased directly from the site. In addition, consumers can choose from many prepackaged cleaning kits that can tackle nearly any household cleaning task. Some of the kits include a housewarming kit, a starter care kit, a pet care kit, a floor care kit, and more. Visitors to the site can also build their own kits by choosing which cleaning products and accessories they would like included. The individual products are currently on sale for $6.99 (normally $7.99 retail). The kits will save a shopper from 15% all the way to 35% off of retail pricing, and all orders over $25 currently are eligible for free shipping.
Better Life has also integrated the site deeply with Facebook. This integration allows users of Facebook to order all of Better Life's products without leaving Facebook, and further integrating their experience. This social integration is vital to the new site that also contains unbiased, unedited, consumer reviews.
About Better Life Maids
Founded in 2008, Better Life Maids, based in St. Louis, Missouri, is a professional "green" house cleaning service. Having created a unique partnership with Better Life, a natural household cleaning products manufacturer, Better Life Maids is the first franchise green house cleaning service to co-brand with a product line, which creates both a greater consumer experience and a better franchisee opportunity. The service and products are centered being earth/environmentally friendly in order to protect your home and family from the ill effects of toxic products while also protecting the planet. More information about Better Life Maids green house cleaning franchise can be found at http://www.betterlifemaids.com or to find out more about Better Life and their line of natural household cleaning products visit http://www.cleanhappens.com.
###