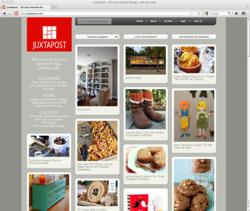 We're always striving to ensure the experience here at Juxtapost is second to none.
Irvine, CA (PRWEB) February 07, 2012
Juxtapost.com, the recently released social discovery platform, announced today that it has reached its 50,000th bookmarked image during its first 52 days of operation. The company also revealed that members of the site are on average bookmarking 1,000 new images daily.
Juxtapost.com enables members to discover new ideas and fresh concepts visually by providing an easy-to-install bookmarklet that allows them to bookmark photos while browsing the web. Bookmarked images are instantly posted to a categorized curated collection on Juxtapost.com, where members can later view, share or export.
The social discovery aspect of Juxtapost.com allows members to browse the incoming categories and streams of other members to see their recent discoveries and are given the option to comment, share or re-post items back to their postboards.
"We are extremely excited to have reached this many posted images in such a short amount of time. " said company founder Monir Boktor. " It demonstrates to us that the public was ready for a service that not only allows them to bookmark images publicly, but also privately as well, a feature our competitors were reluctant to include in their applications."
As part of their announcement, Juxtapost also revealed the roll out of new infrastructure capacity. Boktor continued with "We're getting ready for a massive amount of storage requirements and have done quite a bit of behind-the-scenes work to allow us to instantly increase our capacity without any disruption of service to our members. We're always striving to ensure the experience here at Juxtapost is second to none."
###