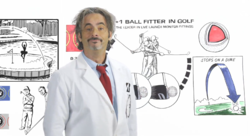 Any viewer will not be able to take their eyes off of this magnificent work of art
Saint George, UT (PRWEB) February 06, 2012
Whiteboard Animation is now an amazing part of Bridgestone Golf. Ydraw has finally announced the release of their latest video scribing video, "The Right B330 Golf Ball", one which will be used for a PGA Golf Event. As a sequence of two videos, this captivating video explains 4 of Bridgestone's precisely made golf balls, the B330, B330-S, B330-RX, and B330-RXS.
Ydraw uses amazing detail in every drawing and video sequence of this Bridgestone Golf video. Truly, any viewer will not be able to take their eyes off of this magnificent work of art coming together at a fast-time pace. Bridgestone Golf works hard to make exactly the right golf ball for every individual, and Ydraw takes pride in making exactly the right video to explain information with excitement and detail. This makes Ydraw and Bridgestone Golf the perfect match for a great Whiteboard Animation Video that will make everyone smile.
David Feherty makes a great "Mad Scientist" in this Explainer Video, and keeps audiences well entertained. His accent, paired with the intricate information he explains, is an adventure in itself. Not only is he an amazing golfer and mad scientist, but who would have thought he could master Whiteboard Animation? David Feherty is a true genius.
Looking for a great, entertaining, animated video? Check out the first release of the Bridgestone Golf Whiteboard Animation Videos, as will be used for the PGA Golf Event. It will have any viewer itching to know more about this amazing and exciting way to explain any topic.
Ydraw specializes in making amazing Whiteboard Animation Videos, where artists explain topics by going through the process of sketching art right before the viewer's eyes. Ydraw artists take time to create information on a virtual whiteboard and draw pictures to help the viewer remember exactly what they are learning. In a matter of seconds, Ydraw takes their artist's long and detailed process and speeds it up so viewers can watch it come to life right before their eyes.