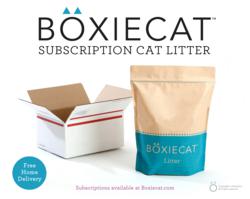 Boxiecat recognizes that there are advantages to Postal Service delivery other carriers do not currently provide.
Santa Monica, CA (PRWEB) February 07, 2012
Enjoyed by cat lovers across America, the Boxiecat online subscription cat litter delivery service ships its own brand of litter, and does so strictly via USPS. Called "the best cat litter on the market" by subscribers, the service provides 16 pound boxes of fresh litter delivered to doorsteps on a schedule subscribers choose. All subscriptions include free home delivery.
Despite uncertainties facing USPS, Boxiecat says the important decision of who to choose for shipping was an easy one. It cites USPS' service, reliability, competitive pricing, and greener shipping methods and supplies as reasons for its choice.
Among proposed reforms facing the Postal Service are job cuts, post office closures and the elimination of Saturday delivery. USPS is reliant on congressional approval to make changes it says are needed to make the agency competitive and financially solvent. "The fact of the matter is our network is too big," says David Williams, USPS Vice President for network operations.
As changes take place, Boxiecat anticipates USPS pricing to remain competitive and reorganization to not affect its businesses adversely. Boxiecat recognizes that there are advantages to Postal Service delivery other carriers do not currently provide.
Boxiecat ships via USPS Priority Mail. "This provides two important things for our subscribers," notes company founder Josh Wiesenfeld, "fast 2-3 day shipping and tracking numbers. All Boxiecat subscriptions include free home delivery, and Postal Service delivery lets us afford to offer that premium."
"Reliable delivery is also key for our subscribers, and we have never had a missing or lost shipment. Our subscribers receive delivery six days a week currently, and even if it becomes five, our subscribers wouldn't expect Saturday delivery if we shipped via a different carrier."
In choosing a delivery partner, environmental considerations were also important to Boxiecat. "The traditional way of getting cat litter is wasteful in terms of energy, carbon emissions, packaging and time. When considering that there are 86.4 million pet cats in the US, it becomes clear that all the round trips to the store being made by cat lovers, and all the packaging waste adds up. We set out to solve this problem, and USPS has helped us succeed."
Because USPS already stops at each house in America six days a week, Boxiecat's service virtually eliminates the carbon footprint of getting cat litter. It's a shared ride delivery that takes advantage of existing distribution routes, rather than creating new ones.
Boxiecat uses USPS shipping supplies which are Cradle to Cradle™ certified - the highest environmental certification for manufacturing that considers the full life-cycle of a product. Additionally, Boxiecat brand litter uses minimal printing and packaging, and eliminates the need for void fillers by using appropriately sized shipping boxes, a step that also increases capacity inside USPS vehicles.
"Many of our subscribers are pleased to be supporting USPS at a crucial time," adds Wiesenfeld. "USPS has provided a useful service throughout U.S. history. As a useful service ourselves, we like being part of that story."
About Boxiecat
Boxiecat is America's first subscription cat litter service. All subscriptions come with free home delivery, including to Alaska, Hawaii, and the US Territories. The service features Boxiecat brand litter, called "the best clay cat litter on the market" by subscribers, personalized shipment timing, and vacation holds. Payments are made on a per shipment basis and subscribers can cancel anytime.
For more information or to subscribe, visit boxiecat on the web at http://www.boxiecat.com, on Facebook at http://www.facebook.com/boxiecat, or on Twitter at http://www.twitter.com/helloboxiecat. Customer service can be reached at (877) 817-0253.
###