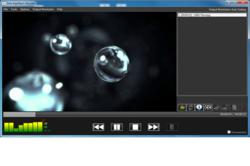 ...a high performance, compact 1.5 RU turnkey MPEG2, H.264, VC1, MXF, ProRes decoding solution that is extremely affordable, ArgoNavis can be intuitively and rapidly integrated into existing workflow processes."
Clearwater, FL (PRWEB) February 06, 2012
Vela Research announced the ArgoNavis Universal Decoder, a powerful turnkey video decoder system, designed for the content distribution, VOD, ad insertion, local origination, medical imaging and education applications of broadcasters, cable operators, and other demanding users worldwide. This system is also ideally suited for mezzanine file playback, local origination, digital signage, studio contribution, news distribution and ad insertion, as well as monitoring, quality control and verification of SDI, VANC and Closed Captioning data integrity.
The ArgoNavis Universal Decoder system is an advanced professional decoder with the ability to decode SD and HD, 4:2:0 and 4:2:2 video content in MPEG-2, MPEG-4 H.264, Apple ® ProRes and VC1 formats. The solution comes in the form of a compact, turnkey 1.5 RU plug-and-play system that can be integrated into operations centers and studios with great speed and ease. This solution is capable of decoding content from a wide variety of sources and provides operators with a broad set of input and output options. The system seamlessly integrates into the existing workflow environments in broadcast studios, cable master control, post-production studios, and most types of content-preparation, distribution and playout sites. It allows for the convenient up-conversion of SD materials to HD, or down-conversion of HD content, eliminating the time, expense and disruption of re-encoding video content, and providing operators much greater flexibility and capabilities than ever before.
Kevin McDowell, Vela's Director of Sales, said "the ArgoNavis Universal Decoder is highly affordable, at under $8,000 per system. The ability for customers to easily, intuitively and rapidly integrate it into their existing work flow, the ability to do away with time-consuming and disruptive extraneous processes to transcode or trans-rate content, and avoid the frustration of overloading existing computing resources with these processes is a major design element of the ArgoNavis Universal Decoder." For full product specs, please check here.
Kevin Grubbs, Vela's Director of Engineering said, " true to the Universal theme of Vela's new series of solutions, the ArgoNavis Universal Decoder system decodes 4:2:0 SD and 4:2:0/4:2:2 HD MPEG-2, H.264, VC1 and ProRes content - and supports a multitude of other professional quality features, such as HD/SD SDI output, genlock, optional UDP and RTP streaming, component, composite and HDMI outputs, up to 16 channels of embedded audio, analog stereo audio, AES/EBU digital audio, NTSC and PAL formats. To further enhance the value of this solution in complex and demanding workflow processes and environments, the ArgoNavis Universal Decoder also comes with an optional SDI & VANC Monitoring module and Closed Captioning Verification functionality."
Kevin Grubbs went on to say, "as with the Encoder solution we recently announced, we have built in a great deal of flexibility into the ArgoNavis Universal Decoder system's software and user interfaces, allowing our users to control their applications through VTR/device control for frame accurate operation, as well as the ability to use touchscreens, foot switches – or traditional controls such as mouse and keyboard."
Mike Reddy, Vela's President said, "the Vela team is delighted to bring this high-performing, versatile and extremely cost-effective decoder solution to our customers as part of the ArgoNavis Universal Series. As with our Encoder solution, this system has been quietly in use by several of our broadcast and cable customers in the US, with excellent results to-date. For 18 years, Vela Research has been known for high-performance solutions that satisfy the most demanding requirements of customers in broadcast, cable, VOD, content distribution and professional video worldwide. It is neat for us to now bring out this ArgoNavis Universal Series of solutions that will offer the highest performance, significant flexibility, and exceptional affordability, while focusing on meeting the most stringent of our customers' functionality requirements."
Users in the broadcast, cable, content distribution, post-production, education, digital signage and healthcare markets interested in further information or in test-driving the ArgoNavis Universal Decoding solution are invited to contact Kevin McDowell at 954-558-2063 (kmcdowell(at)vela(dot)com).
###