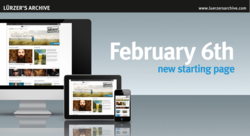 "We are the new curators of inspiration!" says Michael Weinzettl, publisher and editor-in-chief of Lürzer´s Archive.
Vienna, Austria (PRWEB UK) 6 February 2012
With striking graphics, the ability to view all new submissions from agencies and features which will inform and inspire, the website complements the prestigious magazine, which for 28 years has presented the most interesting new print campaigns, TV commercials and, more recently, digital designs from all over the world. It is a phased launch, with a brand new homepage on Monday 6th February offering new features and linking back in places to content on the existing site. Features include:
Daily features on Audiovisual, Campaigns, Digital and Who's Who in the ad world, plus a weekly blog from our Publisher and Editor-in-Chief Michael Weinzettl;

Inspiration: Creative picks from the arts and cultural commentators;
Profile: Featuring creatives from all over the world;
New submissions: All submissions which we receive from creatives worldwide;
Partner: Advertising festivals and cooperation partners;
Reader´s picks: Our readers vote for their top ten from the latest submissions;
Social media: Increased emphasis on using Facebook, Twitter and YouTube to
showcase our fresh content and share new ad spots and creative news.
Sandra Lehnst, CEO, says, "We are delighted to have been able to secure the services – and talents! – of Fernanda Romana (see attachment), former Global Creative Director on Digital and Experiential Campaigns at Euro RSCG Worldwide and a real star of the digital scene , and her Brazilian team from CricketDesign. "
"Fernanda elaborated a fresh new concept for the website according to the principle 'Curatorship of Inspiration´" adds Publisher Michael Weinzettl. "With her new concept she points out the difficulties with the information overload which the ad scene struggles with while searching for relevant information online and explains that there is a clear need for curatorship of this information.
Lürzer's Archive is proud to take on this role – we are the new curators of inspiration!"
The website content and social channels will be managed by editors Sue Keogh (see attachment) and Rhia Chohan from Sookio, who have produced content and social campaigns for the BBC, ITV, Yahoo!, AOL, Bauer, Toshiba, The Guardian, The Independent and TEDx events. They said, "We are very excited to launch this project with Lürzer's Archive and to be working with such a prestigious publication. By showcasing the digital elements of this beautiful magazine to the online world, we hope to interact, innovate and inspire. "
###