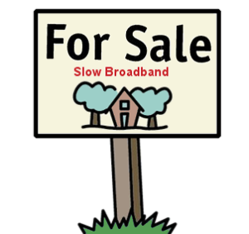 most would be willing to pay extra for a house that delivers good connectivity
Poole, Dorset (PRWEB UK) 8 February 2012
The results from 1215 respondents to ISPreview.co.uk's latest annual reader survey (*), which examined whether or not faster internet access could affect the value of a house, has revealed that the availability of good broadband could add value to your home; especially if it's covered by a modern "super-fast" broadband service.
The study found that more than three quarters (80% - up from 69% one year ago**) of UK internet users would be put off from buying a beautiful new house if it lacked a "good broadband" connection and over half (57%) would pay more for a house that came with "super-fast broadband" (25Mbps+***) as standard.
The vast majority of respondents also felt that broadband was now "critically important" (80% - up from 74% in 2011) to their home lives, with 18.5% describing its importance as only "average" and just 1% claiming it was "not important" at all.
According to Ofcom's November 2011 data (****), the average broadband download speed in the UK is 7.6Mbps (Megabits per second). However ISPreview.co.uk's survey revealed that most respondents appeared to look for even faster services when buying a new home. Just under half (48%) claimed that they would only accept a "REAL" (not 'advertised') connection speed of between 20Mbps and 40Mbps+.
QUESTION:
What is the minimum REAL speed you would accept with a new home (pick closest)?
RESULTS:
10Mbps - 30.7%
20Mbps - 25.4%
40Mbps+ - 22.9%
5Mbps - 15.8%
2Mbps - 3.2%
Don't know - 1.6%
"The appetite for 'super-fast' broadband is increasing," remarked ISPreview.co.uk's Founder, Mark Jackson. "The respondents to our study, many of whom visit ISPreview.co.uk for the purpose of choosing a new ISP (a necessity for home movers too), clearly place a high value on broadband and most would be willing to pay extra for a house that delivers good connectivity. The results could also have serious implications for rural areas, where slow speeds are more common."
"Approximately 8 out 10 people claimed to only be interested in homes that would provide well above Ofcom's national UK average download speed of 7.6Mbps. By comparison the UK government hopes to make super-fast services available to 90% of people in each local authority area by 2015, with the most remote regions having to make do with a minimum commitment of at least 2Mbps."
"Thankfully a growing number of Estate Agents, such as RightMove, have recently begun to reference broadband capability but sadly most only do so to a basic level. The study suggests that many Estate Agents could be missing an opportunity by failing to include more detail about broadband capability, such as the buildings current connection speed and or the local availability of alternative services (e.g. cable, fibre optic, wireless etc.)."
"Unfortunately it's inherently very difficult to attach a specific financial value to the quality of broadband in 'for sale' homes because requirements and property values vary from place to place and person to person, any decision is always about more than a single service. At present most of the available evidence remains anecdotal but the indications seem clear," concluded Jackson.

Survey conducted, with UK internet visitors to ISPreview.co.uk, between January 2012 and February 2012.
** 2011 ISPreview.co.uk Study http://www.ispreview.co.uk/cgi-bin/polls/_polls.cgi?archive_id=91
*** http://www.culture.gov.uk/what_we_do/telecommunications_and_online/8129.aspx
**** http://www.ispreview.co.uk/story/2011/07/27/ofcom-reveals-uk-average-broadband-isp-speeds-reach-6-8mbps.html
# # #