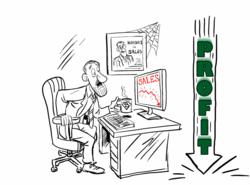 We've seen it first hand with our Automated Webinar Cash Machine video. Retention and engagement is through the roof with our video
Saint George, UT (PRWEB) February 08, 2012
Whiteboard Animation, also know as video scribing, is a new unique way to capture attention, engage the audience, provide additional information and reinforce key points. Using Creative pictures and words not only captures the attention of your audience it will help them retain the information that you have presented. Video scribing provides a way to be different and stand out from your competition.
"We're pretty excited to be formally working with Jace Vernon and Ydraw. By partnering with Ydraw we will now be able to start helping our authors, speakers and clients improve conversions and retention online," said Dustin Mathews, Co-Founder and Chief Marketing Officer of MVP & Associates.
This important partnership will allow both 7 Figure Speaking Empire and Ydraw to give their clients an unfair advantage over the competition. Video scribe videos can increase your customer's views, drive more traffic to your site thus increasing sales. Which ultimately leads to more money for you.
"We've seen it first hand with our Automated Webinar Cash Machine video. Retention and engagement is through the roof with our video," said Dave VanHoose, CEO of MVP & Associates.
"With the success of the 7 Figure Speaking Empire and the clientele that seek them out, it made the decision to partner a no brainer. When you're able to work with the best of the best it's not a hard decision to make. By working together we are going to bring more value and more success to the people we work with," said Jace Vernon of Ydraw. 7 Figure Speaking Empire harnesses the skills of world class communicators by providing them the tools, experiences and resources that are needed to construct powerful messages to compel audiences into action and produce unbelievable results.
MVP Associates is a consulting services company that trains and coaches speakers and businesses in diverse markets around the world including: real estate, personal development, internet marketing, business opportunities, stock trading, software, health & wellness and network marketing.
Ydraw is a whiteboard animation video company that takes topics, that are hard to explain and makes a simple video scribing video with hand drawn pictures. This engages the audience and helps them retain important information.
For additional information, contact:
Nicole Thomas
MVP Associates
5218 West Tyson Avenue
Tampa, FL 33611
813.938.2160 office
email: Nicole(at)speakingempire(dot)com
http://www.SpeakingEmpire.com
###