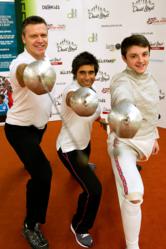 London (PRWEB UK) 6 February 2012
Olympic greats Fatima Whitbread MBE and Steve Backley OBE swapped their javelins for fencing sabres to launch David Lloyd Leisure's Team Family Gold Challenge.
The athletes were joined by British fencing champion (sabre) Alex Crutchett, third highest ranking fencer (sabre) Maiyuran Ratneswaren, top fencer Anna Burnett and four-times Olympic gold medallist and CEO of Right To Play Johann Olav Koss for the fencing bout at the premier health, sports and leisure group's Raynes Park, London club.
David Lloyd Leisure has joined forces with Gold Challenge, the UK's only Olympic and Paralympic sport-based charity challenge, to launch a bespoke initiative giving members the chance to try new Olympic sports – while raising money for the children's charity Right To Play. David Lloyd Leisure's partnership with Right To Play, a charity that provides sport and play activities for children in the developing world, goes beyond this initiative as Right To Play is now David Lloyd Leisure's official charity partner for 2012.
Team Family Gold Challenge will give David Lloyd Leisure members the unique chance to test themselves in five new sports – fencing, canoeing, judo archery and sailing - with the highest fundraisers having the chance to win a race place on the Olympic track where the world's top athletes will compete in the London 2012 Olympic and Paralympic Games.
Ex-javelin World Champion, world record holder and Olympics medallist Fatima said at the event on Thursday, February 2: "I am delighted to be supporting the Team Family Gold Challenge. It's fantastic that David Lloyd Leisure is giving its members a chance to learn some fun and exciting Olympic sports that they might not have tried out before, while raising money for such a great cause. I would urge everyone to give them a go!"
Steve Backley, ex-javelin world record holder, World Championships and Olympics medallist, said: "This will be such an amazing year for British sport and I hope that the approaching London Games will inspire people to do more sport and get fit and healthy. The Team Family Gold Challenge is a wonderful opportunity for people to join in the excitement, plus there's the once-in-a-lifetime opportunity for the highest fundraisers to race on the Olympic track!"
Anna Burnett, who trains at David Lloyd Edinburgh and is Scotland's most successful transplant athlete of all time, said: "Fencing is such a great sport due to the fact that it works the mind just as much as the body, and can be enjoyed by all ages and abilities. It's wonderful that David Lloyd Leisure members will get to find out for themselves!"
Team Family Gold Challenge's highest fundraisers come March 2012 will have the chance to take part in a nine-lane 4x100m relay on the Olympic Stadium track on April 1. The race is due to be watched by a crowd of 20,000 people, including family and friends, and will serve as the key test event for the greatest show on Earth, the Olympics.
David Lloyd Leisure is currently the sole members-only organisation to work with Gold Challenge to create a bespoke challenge, which will take place in clubs across the UK from March to July. During what will be a unique year, the group aims to give its members as many opportunities as possible to try out some different sports which they might not have experienced, while raising money for underprivileged children across the world.
Members can choose from two options - a five-sport challenge (fencing, canoeing, judo, archery and sailing) or three sports (judo, archery and sailing) - and will receive three hours' coaching in each sport from top experts in their fields.
David Lloyd Leisure's chief executive, Scott Lloyd, said: "This is a great opportunity for our members to have lots of fun learning some new sports, while supporting a fantastic cause. What's more, our highest fundraisers will be given the incredible opportunity to race on the Olympic Stadium track and be part of all the excitement."
Gold Challenge chairman Dan Thompson said: "I'm thrilled that we are working in partnership with David Lloyd Leisure to create the programme, Team Family Gold Challenge. The initiative is a fantastic opportunity for David Lloyd members of all ages to get involved and feel a part of London 2012, whilst raising money for a worthwhile cause, Right To Play."
Johann Olav Koss, four-times Olympic speed skating gold medallist and Right To Play's CEO, added: "As a charity born out of the Olympics, we are incredibly excited about this year. We have been part of the Gold Challenge initiative from the beginning and are very happy that David Lloyd Leisure is now involved. The core values of all three organisations are built around sport and health; therefore this looks to be a fantastic partnership."
Registration for Team Family Gold Challenge is open. The registration fee is £123 for five sports and £85 for three sports, with up to £15 from each registration fee plus additional fundraising going to Right To Play. The challenge is also open to children aged seven plus at a fee of £112 for five sports and £75 for three sports. For further information and to register, go to: http://www.davidlloyd.co.uk/challenge
Note to editors: For further information about this press release and photos, contact the David Lloyd Leisure press office on 01707 289833 or email press(at)davidlloyd(dot)co(dot)uk
About Fatima Whitbread
Fatima Whitbread broke the javelin world record with a throw of 77.4m in 1986 and became World Champion in 1987. She won a bronze in the 1984 Olympics followed by a silver in 1988 when she was awarded the MBE. She has recently been back in the limelight after her recent appearance on ITV's I'm a Celebrity Get Me Out of Here.
About Steve Backley
Steve Backley first broke the world javelin record with a throw of 89.58m in 1990, regaining the title with a throw of 90.98m later that year and setting another world record of 91.46m in 1992. His medal haul includes two silvers and a bronze at the Olympics and two silvers at the World Championships. He was awarded the OBE in 2002.
About Anna Burnett
Anna Burnett was diagnosed with Crigler-Najjar Syndrome just after she was born - a rare condition which left her without a vital enzyme in the liver, requiring an auxiliary liver transplant at the age of nine. She is the most successful Scottish transplant athlete of all time, collecting gold medals in sprint and swimming events, and is now a competitive, mainstream fencer.
About Johann Olav Koss
Johann Olav Koss is a former speed skater from Norway and considered to be one of the best in history. His medal haul includes an Olympic gold in 1992 and three gold in 1994. Today, he is president, CEO and founder of humanitarian and development charity Right To Play.
About David Lloyd Leisure Group
The David Lloyd Leisure Group operates 80 clubs in the UK and a further 10 clubs across Europe. It has over 450,000 members and employs 6,000 people. This includes an expert health and fitness team of over 1,800 and contracts the services of more than 400 tennis professionals.
About Gold Challenge
Gold Challenge is the UK's only Olympic and Paralympic sport-based charity challenge. It aims to motivate over 100,000 people to test themselves in multiple Olympic and Paralympic sports, and raise over £20 million for one of its 150 charity partners by the end of 2012. To date over 65,000 people are taking part in Gold Challenge. http://www.goldchallenge.org
About Right to Play
Right To Play is an international humanitarian organisation that uses sport and play programmes to improve health, develop life skills, and foster peace for children and communities in some of the most disadvantaged areas of the world. It delivers programmes in 20 countries affected by war, poverty, and disease in Africa, Asia, the Middle East and South America. http://www.righttoplay.org.uk
###