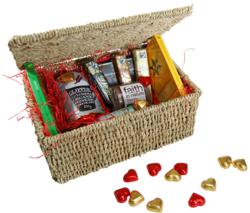 Chocolate to eat, chocolate to drink and even chocolate to wash with!
(PRWEB UK) 8 February 2012
GoodnessDirect have put together a Chocoholic's Valentine's Hamper to send to a loved one or a friend.
The gorgeous hampers are packed with quality organic chocolates and chocolate flavoured products: chocolate to eat, chocolate to drink and even chocolate to wash with!
February 14th is the perfect opportunity to thoroughly spoil that someone special. So, what better than with a hamper delivered straight to their door or workplace?
GoodnessDirect run a hamper service which allows customers to select items to make up their own special hamper too. But the ready-made Valentine's Chocoholic Hamper is a perfect mix of luxuriously chocolatey gifts.
If desired, the hamper service can also include a dictated message in a Valentine's card for the recipient (written in beautiful handwriting of course).
It's simple gifts like these that make Valentine's Day special. In addition to a chocoholic's hamper, here are some more romantic ideas which the GoodnessDirect team hope will help anyone show care and attention.
1. A phone call just to say 'I love you' is beautiful in its simplicity. Not only does it express love, it's also a significant first step towards a wonderful evening together.
2. Find an attractive notebook and fill it with copies of the text messages from a loved one. Sharing special memories is what makes a relationship worthwhile.
3. Get a stylish box and fill it with wine, candles, petals and bubble bath. (Pomegranate bath mix is a good idea. The fruit has fabled aphrodisiac qualities).
4. Create a heart shaped puzzle out of red card. On each piece (except one) write a romantic memory. On the remaining piece write the sweetheart's name. When the partner is presented with these keep the part with the name on till last as a sign that that person "makes the heart complete".
5. Fill inflated balloons with special messages and petals. The intended Valentine can't fail to have fun popping them and discovering the messages inside.
6. Make some homemade cookies. Decorate with heart shaped icing. Homemade gifts are economical and can communicate more love than something bought at the last moment.
7. Fill a glass vase with pebbles, write on each a message of love.
8. Make a heart shaped cake. It's an easy task for someone who is used to baking. Simply bake a square cake and a round cake, both the same width. Cut the circular cake in half and place the semi circles next to two adjoining sides of the square cake. These form the curved tops of the heart and the square makes up the rest. Then decorate with red icing so the cake looks like one piece. Have the cake delivered to the beloved's office for extra impact.
9. Wrap up some massage oil with a label saying "For special favours". It's a promise of things to come.
10. Make a CD of favourite love songs. Then slip it into the intended's car the night before Valentine's day, so that on the day it will play as a surprise.
For more brilliant Valentine's gifts, visit GoodnessDirect.co.uk.
GoodnessDirect.co.uk is the health and well-being haven with 1000s of foods available to be delivered to homes throughout the UK. It caters for customers of traditional foods, vegans and vegetarians, organic foodies, and those on a restricted diet such as gluten or dairy free. The GoodnessDirect website features in-depth dietary information, so that customers know exactly what they are getting, and the service includes a gift-wrap option for the delivery of gifts to friends. Visit http://www.goodnessdirect.co.uk.
###