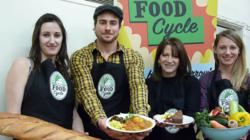 "It's fantastic to have a place you can go to for funding for the next stage of your business." Cecile Girardin, Oxford Biochar
London (PRWEB UK) 6 February 2012
Campaigns to raise £5000 for FoodCycle community cafe and £8000 for Oxford Biochar soil enhancer powered by Peoplefund.it, with some help from celebrities, MPs and Twitter, have successfully reached their funding targets this week.
Foodcycle succeeded in raising the money needed to keep the Station House Community Café open in Haringey after a week-long twitter campaign to raise awareness of their bid on crowdfunding website PeopleFund.it.
In a show of people power, over 270 people donated a total of £5,047, which is enough to keep the café serving meals for another year.   The café is based at MIND in Haringey on Stapleton Hall Road. It uses surplus food (that would otherwise be thrown away) and dedicated volunteers to create healthy meals for the community every Friday lunchtime, running a 'pay what you can' scheme so anyone can come along. Volunteers include MIND service users and young people seeking to gain skills and experience so they can go on to employment.  
On Friday 20th January, the Café was visited by local MP Lynne Featherstone http://www.lynnefeatherstone.org and Thom from Channel 4's 'Three Hungry Boys' http://www.3hungryboys.com  to show their support for FoodCycle and help us make a successful late push for the £5,000 target.    Daniel Turi, the FoodCycle http://www.foodcycle.org.uk  Café Co-ordinator, says "It's amazing how people came together through Twitter over just 5 days and raised enough money to keep the Café going for another year. It shows the importance of the café in the community and we're now really looking forward to doing more and more in the future".
And in the same week, over 110 people backed groundbreaking Oxford Biochar which raised over £8000 on peoplefund.it, so that their innovative soil enhancing product can get to market. 
Oxford Biochar aims to promote the use of biochar as an organic soil enhancer and climate change mitigation technique by making Oxford Biochar a household name for gardening. It's been created by scientists who are concerned about the environment.
Biochar is an organic soil enhancer that significantly enhances plant growth and root development; boosts plant nutrient retention; improves soil structure and stability; improves soil water holding capacity and permeability; raises soil pH (i.e.reduces soil acidity); retains nitrogen and phosphorus; creates a healthy environment in which soil fauna & flora thrive; provides refuge for mycorrhizae; suppresses odours and breaks down pollutants.
"We are pleased at the success of Biochar on Peoplefund.it. It's fantastic to have a place you can go to get that crucial funding to get you to the next stage of your business, and also find out people are prepared to back your idea." said Cecile Girardin, Founding Director of Biochar.
"Hugh and the team are delighted at Oxford Biochar's success. It's an innovative product and we intend to use some at River Cottage HQ at Park Farm, in Axminster." Rob Love, MD, River Cottage
JOURNALIST NOTES:
PEOPLEFUND.IT Peoplefund.it has been developed by KEO, the BAFTA-award winning media production company set up around Hugh Fearnley-Whittingstall and River Cottage. The KEO team have built up a unrivalled reputation for media innovation with their Fish Fight Campaign, Energyshare, Landshare and the Oscar nominated Banksy film, 'Exit Behind the Gift Shop.' "Peoplefund.it aims to be the first widely used platform enabling people to come together to invest in businesses and entrepreneurs with game-changing ideas to create solutions to some of the biggest challenges of the 21st century. And, in doing so, help to launch the next generation of entrepreneurs, businesses and empowered individuals," said Rob Love, Director, Keo. Peoplefund.it might just change the world…
FOODCYCLE
FoodCycle is an award-winning charity founded in 2008 that combines volunteers, surplus food and spare kitchen spaces to create nutritious meals for people at risk from food poverty and social isolation. FoodCycle runs 16 projects nationwide, where volunteers collect perfectly edible surplus fruit and veg (that would otherwise be thrown away) and use this to cook tasty communal three-course meals in their community. Press contact for FoodCycle – Steven Hawkes / 0207 3778771 office: 020 73778771
OXFORD BIOCHAR
Oxford Biochar Ltd. was founded in 2010 by Drs. Girardin and Layberry. We lead a team of scientists passionate about the potential of biochar as a solution to several key environmental challenges the planet faces this century: food security, the need for sustainable agriculture, and climate change mitigation. We work closely with the UK Biochar Research Center.
Dr. Cécile Girardin, Founding Director. Cécile is a Tropical Ecologist who focuses on carbon cycling in tropical forest ecosystems. Her work includes a strong focus on below ground carbon dynamics and provides important insights on the highly fertile Amazonian soils. Following her PhD at the Oxford University Environmental Change Institute, Cécile worked at the Food and Agriculture Organisation of the United Nations. She is now focusing her attention on promoting biochar as a climate smart agricultural practice.
For more information go to http://www.oxfordbiochar.com
FOR MORE INFORMATION ON PEOPLEFUND.IT OR ITS PROJECTS, CONTACT: dawnbebe(at)weareonshore(dot)com 07831790416
###