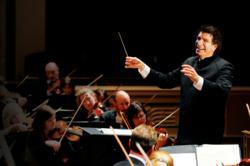 Unforgettable can come in small moments and big moments. Experience Nashville Symphony in 2012/2013.
Nashville, TN (PRWEB) February 07, 2012
Performing more than 140 concerts annually, Nashville Symphony (http://www.NashvilleSymphony.org) will bring size and substance to its upcoming 2012/13 season, beginning with a performance of Mahler's larger-than-life Eighth Symphony. World-class guest artists performing at Schermerhorn Symphony Center throughout the season include Edgar Meyer, Joshua Bell, Boyz II Men, Charlie Haden, Esperanza Spalding and Yo-Yo Ma.
SunTrust Classical Series and Special Events
The Nashville Symphony's 2012/13 season kicks off with a special performance of Mahler's Eighth - Symphony of a Thousand (September 7 and 9, 2012). This monumental work will push the physical boundaries of the Schermerhorn stage to its fullest capacity. With more than 450 musicians and singers onstage, the hall will be reconfigured to showcase one of the most ambitious symphonies ever written, in an event that promises to rival the grand opening of Schermerhorn Symphony Center in 2006.
The Nashville Symphony has earned worldwide acclaim and GRAMMY® Awards for its commitment to new American music, and this season the orchestra's SunTrust Classical Series will feature a number of notable American works, beginning with Richard Danielpour's A Woman's Life, based on a poem by Maya Angelou (September 20-22, 2012). Featuring soloist Angela Brown, this piece will be recorded for a forthcoming release on Naxos.
"The Sound of Enlightenment" (October 4-6, 2012) will showcase American composer Stephen Paulus' Three Places of Enlightenment and The Veil of Tears, both of which will also be recorded for future release. "Harmonic Convergence" (February 7-9, 2013) features John Adams' early minimalist masterpiece Harmonielehre, and "Tchaikovsky Meets Techno" (February 29, March 1-2) will include a new violin concerto by composer and DJ Mason Bates, a cutting-edge talent who mixes classical and electronica. A showcase for soloist Anne Akiko Meyers, this piece is a Nashville Symphony co-commission.
Throughout the season, the Nashville Symphony will tap into the depths of the classical repertoire. Notable performances include " 'The Ring' without Words" (March 28-30, 2013), an instrumental version of Wagner's epic journey into Norse mythology. Rising young pianist Daniil Trifonov makes his first appearance with the Nashville Symphony (April 18-20, 2013), performing Mozart's Piano Concerto No. 9. Other selections in this concert, titled "Uncommon Folk," include Kodály's Háry János Suite and Mexican composer Carlos Chavez's Sinfonia india, both of which feature folk instruments rarely seen on the concert hall stage.
Concluding this monumental season, the Nashville Symphony comes full circle with Mahler's Symphony No. 1 (May 30, 31 & June 1, 2013) and a new commission, Edgar Meyer's Double Concerto for Violin and Double Bass, featuring soloists Meyer and Joshua Bell.
Special events at the Schermerhorn in 2012/13 include an appearance by The Silk Road Ensemble with Yo-Yo Ma (March 23, 2013), renowned for their cross-cultural explorations.
Bank of America Pops Series
Experience spectacular Pops concerts, led by Resident Conductor Albert-George Schram, with the lush harmonies of Boyz II Men (September 13-15, 2012), GRAMMY®-winning singer Michael W. Smith (October 25-27, 2012), Disney in Concert: Magical Music from the Movies (Nov 8-10, 2012), Pink Martini's sophisticated brand of world music (April 4-6, 2013) and the visually stunning acrobatics of Cirque Musica (May 23-25, 2013). All concerts feature the Nashville Symphony.
Jazz Series
The Jazz Series offers the ultimate cool experience, with presentations including legendary bassist Charlie Haden & Quartet West (October 12, 2012) and the Monterey Jazz Festival on Tour featuring vocalist Dee Dee Bridgewater and bassist/bandleader Christian McBride (January 25, 2013). Closing out the series, the Wayne Shorter Quartet will perform some of the veteran saxophonist's orchestrations with the Nashville Symphony (April 12, 2013). They'll also perform Shorter's new Concerto for Bass, featuring Esperanza Spalding. The Nashville Symphony is one of the co-commissioners of this piece.
The Ann & Monroe Carell Family Trust Pied Piper Series
Led by Associate Conductor Kelly Corcoran, the Nashville Symphony's Pied Piper Series makes classical music a family-friendly experience, weaving theatrical flair with beloved classical tunes. This Saturday-morning series is designed to create unforgettable memories for young children and their parents alike. Concerts include "Halloween in the Wild West" (October 27, 2012); "A Spirit for the Holidays," featuring the Magic Circle Mime Company (December 22, 2012); "Beethoven Lives Upstairs" (February 16, 2013), which explores the great composer's life as viewed through the eyes of a young boy; and an aquatic adventure, "Under the Sea" (April 14, 2013). All concerts are preceded by fun family activities, including an instrument petting zoo, where kids can touch and play professional instruments; arts and crafts; drama; and a Wii conducting game.
In addition to incredible music, Nashville Symphony season ticket holders enjoy a host of special privileges that enhance the concert experience. Some of the benefits of being a Symphony subscriber include flexible ticket exchanges, up to 15% off additional tickets, a dedicated patron services specialist to handle your personal needs, exclusive patron events and a patron bonus program with citywide discounts.
For a full list of Nashville Symphony concerts and special events, please visit http://www.nashvillesymphony.org/upcomingseason.
The GRAMMY® Award-winning Nashville Symphony has earned an international reputation for its recordings and innovative programming. The 85-member orchestra offers a broad range of classical, pops and jazz, children's concerts and community engagement programs. The Symphony will be premiering a commission by Terry Riley at Carnegie Hall in May 2012, as part of the Spring for Music festival. The Nashville Symphony has received far-reaching acclaim for its 19 recordings on Naxos, making the ensemble one of the most active recording orchestras in the country. These recordings have received a total of 14 GRAMMY® nominations and six GRAMMY® Awards.
###