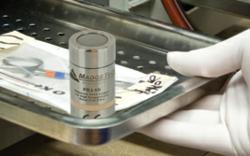 Contoocook, NH (PRWEB) February 06, 2012
MadgeTech, Inc., is pleased to announce the release of the PR140, a high temperature, pressure data logger designed for use in autoclave validation and mapping. This rugged device can withstand temperatures up to 140°C and is completely submersible (IP68).
The PR140 is built with a precision stainless steel pressure gauge. The device has an accuracy of ±0.03 Bar (±0.435 PSI), which can be achieved over a wide temperature range, from 20°C to +140°C (68°F to 284°F). The PR140 can be programmed to take readings as often as once per second (1Hz), and has non-volatile memory that can store up to 32,700 measurements.
The PR140 is easy to use. Simply place it in the IFC400 docking station, connect to a computer, and the device can be started, stopped or downloaded using the MadgeTech software. Graphical, tabular and summary data is provided for analysis and can be viewed in PSIA, mmHg, bar, Torr and kPa. The data can also be automatically exported to Excel® for further calculations.
The PR140 is priced at $999.00. For more information please visit http://www.madgetech.com/pr140.html or call (603) 456-2011.
###