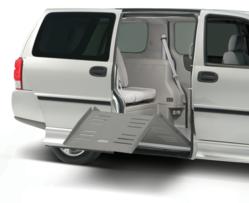 Our objective is to provide a wide selection of choices for our clients to drive or ride in.
AKRON, OH (PRWEB) February 07, 2012
MobilityWorks announced today that it has acquired the assets of Monmouth Vans Access & Mobility located in Farmingdale, NJ. The parties closed the deal February 7, 2012. Monmouth Vans will become part of the MobilityWorks family of accessible van showroom and service centers, now reaching 15 locations in 8 states. The MobilityWorks Commercial division provides the entire U.S. market with custom fleet vehicles such as ambulette vans, shuttles and taxis.
MobilityWorks offers a wide selection of vehicles and alternative wheelchair transportation options. While its core products are modified minivans with automated ramps and full-size vans with lifts, the company also offers wheelchair accessible motorcycles and pickup trucks, a robotic arm for wheelchair storing, turning/lift-up seats, scooter lifts and hi-tech driving systems. "Our objective is to provide a wide selection of choices for our clients to drive or ride in. Vans are just one of many options, with several different types of conversions to choose from" said Bill Koeblitz, President/CEO of MobilityWorks. More than a third of MobilityWorks' wheelchair and scooter clients drive their own vehicles with the use of hand controls.
In addition to significant operational support coming from the company's Akron headquarters in areas such as accounting, human resources and marketing, the New Jersey location will realize many other benefits in becoming a part of MobilityWorks. "I'm really looking forward to working with the new team. They have an outstanding reputation in the industry" said Ray Morton, who has been named as the location's General Manager. He correlates their success with having quality people, its emphasis on service and willingness to invest in overall improvements. "MobilityWorks has made significant investments in a new Client Care Center, training programs, and in their network systems… just to name a few examples. Those types of things will really help us with serving our clients," added Morton. Monmouth Vans owner Gene Morton (Ray Morton's father) will be retiring after a distinguished career in the wheelchair van and adaptive equipment industry.
The company stated that its entire inventory of more than 340 vans is searchable online and shared across all showroom stores. Drivers transport vans from one store to another if a particular make, model or type of conversion is preferred by a client. "Logistically, Monmouth provides us with another eastern region location to complement our existing store in Albany New York," said Eric Mansfield, Vice President of Store Operations. "They can easily support each other's inventory needs."
About MobilityWorks
Starting with one location and ten employees in 1997, the Akron-based Inc 500 company now employs more than 260 full-time employees throughout the country. Showrooms are located in CA, IL, MI, NJ, NY, PA, OH and WI. The MobilityWorks Commercial Division is Ford Motor Company's largest mobility upfitter in the commercial van industry manufacturing non-emergency transportation vehicles. They are members of the National Mobility Equipment Dealers Association (NMEDA), with all locations achieving NMEDA Quality Assurance Program (QAP) certification. For additional information about MobilityWorks, go to http://www.mobilityworks.com.
About Monmouth Vans Access & Mobility
Monmouth Vans Access & Mobility began in 1975 as Monmouth Equipment and Service Co. Inc. They were later acquired in 1983 and changed names to better identify themselves with wheelchair transportation. They were also part of 'Accessible Vans & Mobility' (AVM) in Cinnaminson, NJ. With the acquisition, they will no longer be a part of the AVM organization. Monmouth Mobility provides modified, personal-use vans, scooter lifts and driving aids to New Jersey communities such as Lakewood, Hamilton, Toms River, Trenton and Wall Township. They have on-site adaptive vehicles ready for sale and for rent. Experienced certified mobility consultants are on hand to assist with vehicle and equipment selection.
###