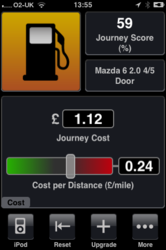 Drivers could save £170 per year on fuel using DriveGain - the equivalent to the average annual cost of car tax.
London, UK (PRWEB UK) 8 February 2012
Fuel saving app DriveGain (http://www.drivegain.com) is launching in the UK today, following a successful launch in Holland for the Dutch Government. The app provides audio and visual feedback to help users become more efficient drivers and save £170 per year on fuel – the equivalent to the average annual car tax cost.
DriveGain uses the iPhone's GPS to calculate how efficiently the vehicle is being driven. Combining information about the rates of acceleration, driving smoothness, and overall speed with the exact engine specifications of your car, DriveGain calculates a Journey Score out of 100, showing how efficiently users have driven on each trip. The extensive database of over 32,000 vehicles means that every driver can learn to drive more efficiently, from Top Gear's reasonably priced Chevrolet Lacetti to Ferrari Enzo owners.
The basic version of the app is available for free, offering MPG and litres/100km statistics, as well as the Journey Score out of 100. Additional displays like Cost Meter, Fuel Savings Meter, Instantaneous Meter and CO2 Meter can also be purchased as add-ons from £0.69 or £1.49 each.
The app is supported by DriveGain's website, where the drivers' journey data is automatically uploaded to. Users are able to track how well they are reducing their fuel consumption, see where they are wasting the most fuel and compete with friends and colleagues for the best weekly Journey Score.
Simon East, CEO of DriveGain comments "DriveGain is a must-have money saving tool for motorists who are keen to get more miles from their tank of petrol. While the app also helps the environmentally conscious driver reduce their CO2 emissions, we think the majority of motorists will download the app to keep their fuel costs down. Over the last 20 years the cost of fuel has tripled*. We hope that in this current recession motorists will welcome any free app that helps to reduce the costs of driving. DriveGain is an important money saving tool as consumers tighten their belts in 2012."
DriveGain can be downloaded from Apple's App store here: http://itunes.com/apps/drivegain

Source: BBC News: MPs urge ministers to scrap a planned rise in fuel duty (Nov 2011)
###