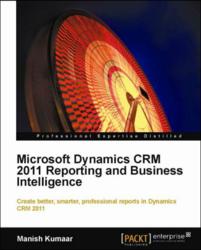 UK (PRWEB) February 07, 2012
Birmingham: Packt Publishing, one of the world's leading publishers of Microsoft Dynamics books and e-books, and Dynamics training, celebrates its range of Dynamics titles and cements its reputation with five new titles now slated for publication in 2012. The first of these books - Microsoft Dynamics CRM 2011: Dashboards Cookbook was published in January 2012. In February, Microsoft Dynamics CRM 2011 Reporting and Business Intelligence is scheduled for release.
With 18 Dynamics titles to date and a multitude of bestsellers on NAV, AX, GP and Sure Step, not only do Packt's titles cover the spectrum of Dynamics technologies, but the books have been garnering numerous positive reviews as well.
Throughout 2012, Packt will continue to build upon this success, with a focus on branching into different forms and formats such as the Dynamics Certification series.
For the month of February, Packt is celebrating its position as the leading Dynamics publisher with a month of Microsoft Dynamics Mayhem, a programme offering special discounts on all Dynamics books and e-books, as well as the new Microsoft Dynamics Packtlib subscription.
About Packt Publishing:
Packt Publishing is one of the world's leading providers of books, e-books and eLearning for Microsoft focused technologies. Packt is committed to covering all the informational needs of Dynamics Professionals across the Dynamics product family. Visit Packt's website to view all Microsoft Dynamics eBooks and books. All Packt titles are available in print form, Kindle, ePub, mobi, and through online library platforms.
Recently published Dynamics Titles have included:

"This is a great book if you want to learn to use CRM by implementing, configuring and extending CRM using a 'real-world' scenario."
Microsoft Dynamics NAV 2009: Professional Reporting
"If there is anything that you don't understand about reporting in Microsoft Dynamics NAV, then this is the book for you. Steven Renders delivers a must read book that includes step by step tutorials through the maze of different reporting options. This book will give you the knowledge that you need to really understand how it works. EVERY NAV developer should have a copy."
Microsoft Dynamics GP 2010 Cookbook
"This book is absolutely well written, consistent, and packed with information. Being a Microsoft MVP, I am typically required to be ahead of the curve and I was even able to learn a few new tricks with the Cookbook."
"This is the only book currently available on Microsoft Dynamics Sure Step 2010, the Microsoft implementation methodology for Dynamics ERP and CRM. This book guides you through the basics of Dynamics implementation projects, to the deeper nuances of a successful implementation."
###