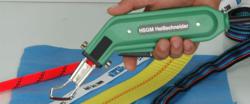 Duncan, SC (PRWEB) February 20, 2012
As part of their commitment to best serve clients large and small, HSGM, Inc., known worldwide for their expertise with heat cutting equipment and machinery, is now offering a wider range of discount tiers to distributors.
This initiative is intended to give distributors of all sizes access to HSGM's industry-leading selection of heat cutting solutions. There are now lower quantities available, lowering the barrier of entry and giving a broader range of distributors access to the top quality products that HSGM, Inc. is known for.
With more tiers available, it will be easier for distributors to carry the selection of equipment their clients require, including the HSG-0, just one of the many fine products now available.
HSGM, Inc. is proud to announce this restructuring with no price increases, making it easier for distributors to carry these best-in-class heat cutting solutions. A vast range of industries, from textiles and automotive to agriculture and many more, will now be able to more easily benefit from the equipment and machines HSGM, Inc. has to offer.
Known for their pioneering designs and innovative solutions, HSGM's hot knives, webbing cutters and soldering iron tools are industry standards, providing alternative cutting solutions known around the world for their quality and dependability. In addition, HSGM, Inc. has the capability to custom design and build cutting devices for any application, giving clients flexibility not found anywhere else. This, along with their renowned service, makes HSGM, Inc. the first choice for any serious industrial cutting application. They also carry a full selection of replacement parts and repairs to ensure that their products provide years of dependable service. Interested clients can also submit their own materials for a test cut to see first hand how effective HSGM's heat cutting tools really are.
About the company:
HSGM GmbH of Walluf, Germany, world-recognized manufacturer of heat cutting equipment and machines, announced the opening of their first company, HSGM Inc., in the United States in January 1998. The offices are located at Hwy. 290 in Duncan, S.C. (USA) and consist of both a sales office and a warehouse/distribution center. They are a source for high quality heat cutter, hot knife, hot knives, webbing cutter, styrofoam cutting tools, hot wire foam cutting tools, soldering iron tools, synthetic fabric cutter and supplies.They carry a full line of heat cutting equipment, blades, and spare parts for the textile, automotive, agricultural, geo-textile, marine, garment, and sports equipment industries. Additionally, they offer heat cutting equipment for Styrofoam boards used in the building construction trade and small rechargeable soldering guns for use by the electrical and electronics trade. HSGM, Inc. is the exclusive authorized Agent for North America. For more information visit them at http://www.foamcuttingtoolsspartanburg.com and http://www.hsgmusa.com.
###