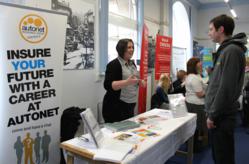 These are exciting times for Autonet and we understand that committed staff are the driving force behind any successful business
(PRWEB UK) 7 February 2012
Autonet Insurance, the UK's leading van insurance broker and the previous winners of the Insurance Times Personal Lines broker of the year have teamed up with local radio stations Signal 1 & 2 as part of their virtual recruitment campaign.
Signal 1, Stoke-on-Trent's local radio station have recently held a recruitment and training fair which gives colleges and companies the chance to meet potential candidates. As part of their recruitment campaign they will be advertising a virtual recruitment drive across their website which will be supported by on-air advertising.
The on-air advertising featured some 28 promotional trailers with interviews from department managers offering insight into what working for Autonet is like. Autonet's promotional trailers were featured on Signal 1 and Signal 2's website and on-air throughout the day from end of January to the first week in February.
Recruitment is an important part of Autonet's growth strategy with vacancies available throughout the business and always room for progression.
Jenny Devaney commented: "These are exciting times for Autonet and we understand that committed staff are the driving force behind any successful business. We expect 2012 to be a challenging but rewarding year and implore people to give us a call and join in our success."
###