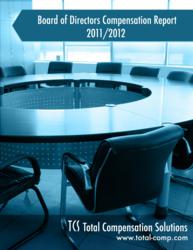 The rate of growth in pay seems to be related to improved operations, not a reduction of workload
Armonk, NY (PRWEB) February 07, 2012
Even as the economy shows signs of recovery, pay for the Board of Directors was relatively flat compared to last year according to a study published by Total Compensation Solutions (TCS). This continues a trend of smaller increases in board compensation since the first signs of the economic recession appeared in 2008. Before the recession, pay for Directors has been increasing at a rate of approximately 15% per year (on average) for at least ten years. This was considered reasonable as Board member responsibilities and time commitment increased. For the last three years, TCS had observed that pay increases for Directors have been averaging significantly less and some analysts believe that it's due to the economic hardship that the US has been experiencing.
The 2011/2012 Board of Directors Compensation Report explores how companies continue to respond to current economic conditions. This survey compiles data from 457 U.S. organizations in 10 industry groups. In addition to pay issues, the TCS survey also reports a significant change in the way governance is applied through the various standing committees of the Board of Directors. The increased accountability of the audit, compensation and governance committees has dramatically increased the time commitment of Board members who serve on these committees. It now appears that Directors' compensation is being driven by market conditions and the efficiencies that the company can realize with structured Board participation.
TCS observed marginal increases in both annual retainers and per meeting fees but a reduction in the average number of board meetings. This directly impacts the total cash compensation paid to Directors. TCS defines total cash as the sum of annual retainer and per meeting fees. "The rate of growth in pay seems to be related to improved operations, not a reduction of workload" according to Paul Gavejian, Managing Director of TCS. "While some companies reduced the number of regular Board meetings and Committee meetings, most companies are meeting on the same day and maximizing the time of Directors who serve on these committees." This reduces the number of per meeting fees that the company would be required to pay to Directors if those meetings were held on different days. As a result, the Boards are realizing efficiencies that are indirectly related to market conditions.
When the analysis of Board compensation focuses on a "matched sample" (the same companies in both years), the table below shows the average total cash for Directors was flat and total cash for the Chairman of the Board grew by 1.7% in the past year.
This year's study, for the first time, also collected data on Lead Director compensation and phone and/or virtual attendance meeting fees. TCS observed that the average total cash compensation for Lead Director was comparable to the Chairman at $72,454 and phone/virtual attendance meeting fees were on average approximately half of the in person meeting fees.
Copies of the 2011 / 2012 Board of Director Compensation Report are available from TCS (http://www.Total-comp.com). If you have questions regarding this report, please call TCS offices at (914) 730-7300 or email questions to: Paul Gavejian pgavejian(at)total-comp(dot)com or Tom Bailey tbailey(at)total-comp(dot)com.

Total Compensation Solutions is an independent human resources consulting firm dedicated to assisting clients in achieving their strategic compensation objectives. The firm uses market data to identify best practices in a variety of topical areas including: board compensation; executive, middle management and staff compensation; performance management; organization structure; health and welfare; and retirement benefits. From offices in Armonk, NY, and Philadelphia, TCS gathers and reports information on compensation, personnel practices and benefits and applies the most effective, market-driven solution to each organization's unique set of circumstances. For more information on TCS, visit http://www.total-comp.com or contact us at 914-730-7300.
###