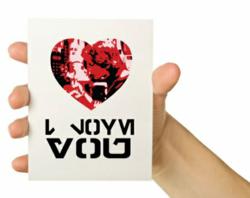 New York City, NY (PRWEB) February 07, 2012
Valentine's Day is coming up and love it or hate it, it's a thing in the world. (Yes, it's probably a greeting card industry thing, but whatever. It's a thing.) So for those that aren't too keen on dropping $100 on flowers that will eventually die or spending cash on chocolate, Broodr (http://broodr.com), the marketplace for buyers and sellers of all sorts of unique, geeky gadgets, has the goods. The Broodr team has collected a few of its favorite gems for everyone to enjoy... or not. Take a look!
Say "I Love You." In Aurebesh or Galactic Basic...
Yep. Those are Star Wars languages. Broodr has some awesome Valentine's Day cards that will tell the lady or man friend that love springs eternal - and that Star Wars rules. At $3.75 each, they're a steal. Handmade by The Wallaroo Prints.
ASCII Love...
Guys, is the lady into character encoding schemes? If so, this lovely necklace is for her. What may merely resemble an emoticon heart to the typical Internet user (or "less than three" to the elementary school student) will mean so, so much more. $130.
PlayStation Controller Cufflinks! Seriously!
Check out these sweet cufflinks made out of upcycled PlayStation controllers. They're ideal for that rare occasion that requires attire a step above jeans, a t-shirt and a cardigan. Circle! Square! Triangle! X! And at $7.99 a set? Get them. Now.
Apple Geeks?
Have a ton of Apple products? iPads? iPhones? Gen 1 iPod? Get rid of all those white chargers strewn about the apartment and dock three devices in one funky-looking rig built by a Broodr seller known simply as Woodguy32. Be sure to check out the rest of his stuff too. It's lovely. $99.
Don't Treat Each Other Like a Doormat...
Treat an actual doormat like a doormat! For those that are huge gamers, sci-fi fanatics, or web culture aficionados, these doormats from damngooddoormats are the perfect door-matting solution. Varieties include: Honey Badger, The Big Lebowski, Atari, Yoda ("Welcome, You Are"), Step Brothers, and more. $35 to $55.
The Couple That Cooks Together...
Perhaps the "I'll cook a romantic dinner for you at home" is the preferred V-Day celebration. If so, nice move. And in case the current kitchen gear is a little beat, consider a quick visit to the Slice store over on Broodr. They've got veggie peelers, graters, safety cutters, ceramic mills, and more. Plus, they're a perfect blend of design and functionality. So be sure to stock up before flexing that culinary prowess. Ranging from $5 to $50.
Oh! And if barbecue is on the menu (which is strongly recommended), check out Breadpig's Awesomesauce. $20.
Set the Mood!
Because no one wants to get cozy under the hum of halogen lighting, take a gander at this lovely little Night Lamp from BlackGizmo. (Additional tip: Marvin Gaye. Lots of Marvin Gaye.) $72.
So those are just a few Valentine's Day favorites from Broodr. Poke around the rest of http://broodr.com to find your perfect gift!
About Broodr
Broodr (http://broodr.com) is an exclusive marketplace for buyers and sellers of all sorts of unique items and geeky gadgets. The site help inventors, designers, makers, DIYers and anyone else who's creating unique products by giving them an alternative selling channel to the exact customer base they seek: people just like them. To explore all things Broodr, visit http://broodr.com or say hey on Twitter at @broodr.
###