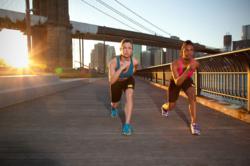 Leading UK University tests iconic Hotpants against regular sportswear and discover women lose weight 4 times faster with Hotpants during a 30 minute period of exercise.
(PRWEB) February 13, 2012
Zaggora has announced the results of a study performed by the physiology department of a leading UK university. The university was commissioned to conduct a series of tests to research the thermal and metabolic changes that occur when exercising in Hotpants compared to a standard pair of gym shorts.
Tested on nine females with an average BMI of 23.3, researchers found that compared to a standard garment in 30 minutes of exercise:

Weight loss was around four times greater in Hotpants
Hotpants increased the energy expenditure during exercise by 6%
Hotpants increased energy expenditure in the resting stage after exercise by 16%
The core temperature in Hotpants increased by an average of 18% compared to the control
Thermal sensation was significantly greater but still safe in Hotpants
Zaggora launched Hotpants with huge success in July 2011, selling a pair every minute in their first 10 weeks, and over 275,000 pairs within the first five months. Thriving on social proof from over 130,000 women on Facebook, Zaggora's first technology-enhanced product flew off the shelves after women experienced significant weight loss and smoother legs.
The Zaggora Hotpants concept is focused on using a special Celu-Lite fabric technology to increase the user's natural body temperature during exercise. In turn, the body starts working harder, resulting in increased metabolism and greater calorie burn. Zaggora Hotpants were made to fit into every woman's lifestyle no matter how busy they are, and can be worn under clothes at work, whilst at the gym, or at home.
Last month, Zaggora announced the launch of three new products, expanding its range of technology advanced active wear. The new products follow the same concept as Hotpants, and are designed to give workouts more power in 2012. The new range includes 'Flares,' leggings that target thighs, calves and bums; 'Capri Flares,' three quarter length leggings; and 'Nude Hotpants' which can be worn under garments.
In 2012, Zaggora will be commissioning additional scientific research to further explore the long term effects of their technology enabled active wear.
*Tests were conducted in December 2011 and January 2012 in controlled conditions in British Association of Sport and Exercise Science Accredited Laboratories at the University of Brighton, Chelsea School of Sport.
Available from http://www.zaggora.com prices start from £44.99.
About ZAGGORA
Inspired by real women, Zaggora was founded by Dessi Bell after she struggled to find an effective solution to lose weight in time for her wedding. Zaggora is an iconic brand specialising in developing technology enabled clothing helping women to look and feel good. The company is committed to delivering a natural and efficient way for women to achieve more out of their workouts and feel good about themselves.
Read what real women have to say about Zaggora products: http://www.facebook.com/myhotpants
Press: Lucy Page | Head of Marketing & PR | lucy.page(at)zaggora(dot)com
###