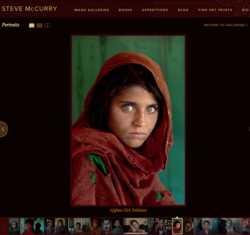 Steve McCurry has teamed with Bluecadet to launch a new website that showcases over 2,000 of his images.
Philadelphia, PA (PRWEB) February 07, 2012
Steve McCurry has teamed with interactive studio Bluecadet to launch a new website that reflects the beauty and breadth of his work. The galleries showcase over 2,000 of his images, more than most portfolio sites are able to maintain, while the biography, blog, and expedition sections keep his fans excited about his travels and adventures.
McCurry has been producing award-winning images for decades, many of which are universally recognizable, like his National Geographic cover of the Afghan Girl. He now has a portfolio that features his work in a comprehensive yet navigable way. Together with Bluecadet, he launched the new site at the end of 2011. Visit it at http://stevemccurry.com/
About the site: McCurry's images span 57 different countries, and the portfolio showcases 2,000 photographs in 55 easy-to-browse galleries. The site features gallery navigation that lets viewers explore in many different ways, including a grid view where users can filter images by place or theme.
The site is more than just images in navigable gallery views. There is a prominent biography of McCurry, including in-depth looks behind the scenes of some of his most famous images. There's a new blog space to coalesce his heavily-followed Wordpress blog into the main site, and a space to feature his famous Photo Expeditions.
Visit the site at http://stevemccurry.com/
Bluecadet is an interactive studio that creates engaging experiences with multimedia. They design and build dynamic websites, installations, and mobile applications for museums, non-profits, and universities. Since 2007, they have been using new media to create award-winning interactive experiences that capture audiences and imaginations. Located in Philadelphia's Northern Liberties, they are storytellers for a digital age.
###