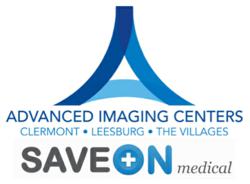 Our decision to join Save On Medical was two-fold, we realize that patients have choices when it comes to their care and we want them to see what our locations have to offer in regards to quality of service and pricing
Orlando, FL (PRWEB) February 06, 2012
Save On Medical, the newly launched price-shopping and appointment booking tool for healthcare services, is pleased to announce their contract with Advanced Imaging Centers in Central Florida. Advanced Imaging Center has three facilities located in Leesburg, Clermont and The Villages, all of which are now participating on Save On Medical.
AIC's decision to join the Save On Medical Community was an easy one. With a surplus of recent calls inquiring about self-pay and cash-pay prices at their facilities, they saw a need for a seamless way to cater to that price-sensitive patient population. As an independently owned outpatient diagnostic imaging facility, Advanced Imaging Center is dedicated to providing the highest quality of care to a vast patient market, which is why they were attracted to the way Save On Medical's systematic, yet personalized, approach.
"Our decision to join Save On Medical was two-fold, we realize that patients have choices when it comes to their care and we want them to see what our locations have to offer in regards to quality of service and pricing," says on-site radiologist Dr. Jayson Lord. "Also, I don't want to be commoditized because a patient doesn't think they can afford the care they need. Often times; patients don't realize how much the quality of the service impacts their treatment."
The capabilities of Save On Medical also play a large role in the physician outreach process for facilities looking to increase referrals from other physicians in their community or network. Rather than going through the challenges of the referral process, a physician can simply recommend the patient goes to saveonmedical.com with their script in hand, to make an educated decision on their own based on aspects of quality, convenience and pricing.
Advanced Imaging Centers' subscription to Save On Medical includes more than just a listing and scheduling capabilities. With the ability to manage their own Patient Process in the Care Manager, Advanced Imaging Center has the ability to pay the same level of attention to their virtual patients as they would if the patient was in their office. Search Engine Optimized profile pages lead to higher website rankings for the facility, along with a tailored keyword strategy which aids in Google Scores.
To claim your facility and learn about what Save On Medical can do for your practice, visit the website today.
About Save On Medical
Save On Medical is a premiere resource for patients when it comes to shopping for and booking medical services; it also enables physicians to reach the patients in the increasingly popular price-sensitive market. Patients are able to search for medical services by price, quality and convenience with the help of the SOM Docometer. By comparing average costs of services in the area, Save On Medical allows for pricing transparency in the health care market, which enables the patient to decide what is important to them when it comes to their care. In the same way that travel sites such as Hotels.com and Travelocity work, Save On Medical provides the patient with all of their options, then helps them to easily schedule appointments and pay for the service stress-free and at a fraction of the price.
About Advanced Imaging Centers
For over 10 years Advanced Imaging Centers has been serving Lake & Sumter Counties with state-of-the-art technology, quality care and unparalleled service from a qualified staff and technical team. Advanced Imaging Centers is independently owned and operated by their onsite radiologists, who are all board certified and fellowshipped trained and proficient in a broad range of sub-specialties. The technologists are highly skilled, compassionate and registered in their respective technologies. The American College of Radiology (ACR), representing the gold standard of diagnostic imaging care, accredits each of our three centers.
###