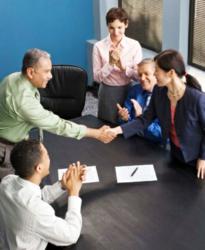 The Referral Program initially increased internal referrals by 400% with a closure rate of 76%, and by December of 2011, the Referral Program had soared to even greater heights, marked by the Bank's two-millionth referral.
New Brunswick, N.J. (PRWEB) February 08, 2012
Dittman Incentive Marketing collaborated with one of the top five banks in the world to create an employee incentive program as a way to drive core business during the challenging economy. The Bank used a customized version of Dittman's TotalPRO® (Performance Recognition Online) System that allowed employees to easily submit and track new business referrals online. For achieving established goals, employees earned points they could spend on a multitude of rewards. The Referral Program initially increased internal referrals by 400% with a closure rate of 76%, and by December of 2011, the Referral Program had soared to even greater heights, marked by the Bank's two-millionth referral.
The need to maximize customer relationships
The primary objective of most banks is to maximize their customer relationships by growing the number of bank products each customer buys from them. The lifeblood of that activity is sales referrals from each Line of Business (LOB) to the others. Dave Dittman, Executive Vice President of Dittman Incentive Marketing says, "The Bank recognized that they needed to do a better job of encouraging and rewarding referrals and wanted an integrated, electronic platform that would make it easy for people to refer customers."
Building a successful employee referral program
Dittman Incentive Marketing's expertise helped the Bank develop a referral system that consisted of a custom, integrated web-based platform. The Referral Program was launched in July 2006 to provide more than 9,100 team members and nearly 750 bank locations with a compelling reason to increase their referral activity. The web-based application was designed to simplify the referral process and provide a real-time tracking system that allows tracking of referral results. The system also identifies areas of opportunity for coaching and recognizes strong performers with points they can use to purchase rewards.
Online referral application easy to use
The real-time system centralizes and standardizes the processing of customer referrals and allows each LOB the opportunity to modify its online referral form to meet its individual business line needs. "The interface is user friendly and online reference links help assure that referrals meet the criteria established by the LOB." says Dittman.
The application offers incentives designed to motivate team members by offering them the chance to earn points on various products or services and use those points to purchase whatever they wish from thousands of incentive reward options. Additional internal promotions further engaged team members by driving them back to the website.
Significant revenue, new customers, and ROI
By any measure, the Referral Program has been a huge success. Average weekly referrals increased from 1,000 to over 7,000 per week. The Rewards Program has since become a major company initiatiative, so engrained in corporate culture that it is covered during new employee orientation. In the words of one bank VP, "It's hard to describe how powerful this system is."
About Dittman Incentive Marketing
Dittman Incentive Marketing is a leading provider of incentives, rewards and recognitions programs using online software (SaaS) to help companies realize immediate ROI in motivating sales people, employees, channel partners, and customers. Our solutions include TotalPRO® - recognition and rewards solution includes modules for peer-to-peer and manager recognition, sales incentives, referral programs, service awards, bright ideas, safety, and wellness; Great Escapes™ - individual travel incentives for sales incentives and contests with over 130 destinations; and Great Rewards® - individual name-brand merchandise rewards from $30-$3,000. Dittman Incentive Marketing is a founding trustee of the People Performance Forum at Northwestern University and the Enterprise Engagement Alliance and has earned dozens of awards over the last 35 years. For information: web http://www.dittmanincentives.com; blog http://dittmanincentives.wordpress.com; Twitter http://twitter.com/dittmanrewards; Facebook http://www.facebook.com/DittmanIncentives.
###