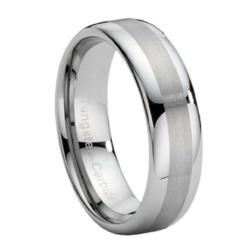 Thanks to MWR's user-friendly navigation, tungsten wedding bands in larger sizes are easy to find at Mens-Wedding-Rings.com.
Jensen Beach, FL (PRWEB) February 07, 2012
Thanks to MWR's user-friendly navigation, tungsten wedding bands in larger sizes are easy to find at Mens-Wedding-Rings.com. Unlike many competing online jewelers, MWR allows men to find out which of their favorite rings are available in their size without forcing them to navigate through pages of smaller-sized rings. The "Shop by Ring Size" section was created in response to customer demand, and it gives shoppers the option of selecting their ring size first and then sorting through the various collections from there. To see men's tungsten wedding bands in larger sizes, customers can get to the pages they want in just a few clicks. Other stores try to sell a few styles in large rings, but MWR is the only retailer in the United States that offers large size rings up to size 20. To enhance the shopping experience even further, MWR usually ships out rings on the same day or next day without the delay of placing a special order.
In response to customer requests for more tungsten wedding bands in large sizes, Mens-Wedding-Rings.com has expanded its selection to include tungsten rings in every size. Many of the large men's rings for sale at MWR are made by nationally known jewelry designers and they include many exquisite designs in precious and alternative metals. In addition to their impressive inventory of attractive traditional wedding rings, MWR offers several popular contemporary metals to meet every man's style. By offering more collections in larger sizes, MWR is becoming widely known as a one-stop resource for men's wedding bands.
Unlike many jewelry store chains and web stores who have added tungsten wedding bands and claim to sell larger sizes, MWR has focused a large part of their efforts on expanded selection of rings through size 20. But beyond that, Mens-Wedding-Rings.com has devoted much of its inventory to selling larger size rings that are both attractive and affordable. One of the most comprehensive online jewelry stores on the Internet, MWR has earned a reputation for their vast array of large sized wedding bands from top-rated resources. A few of the savviest bridal editors have singled out this ecommerce retailer as one of the best resources for grooms-to-be.
One reason for the early success of Mens-Wedding-Rings.com is the owners' dedication to making their inventory the most diverse and impressive assortment of men's alternative and traditional wedding bands. With rings made from gold, platinum, silver and a number of alternative metals, their selection at MWR reflects the latest styles on the market today, all at affordable prices. Owners Roy and Judy Devine are always looking for a way to innovate by improving the shopping experience for their customers. Adding a greater variety of large rings is just another way of doing this. MWR has added several new collections of designer men's wedding bands just in time for the busy Valentine's Day and spring wedding seasons.
According to MWR co-owner Roy Devine, "One reason that today's buyer is looking at tungsten wedding bands is because they want a ring that makes a statement, but they also like the fact that the rings are hypoallergenic and nickel-free." Black tungsten and white tungsten wedding rings are another growing trend in the jewelry world, and these also are available in all sizes at Mens-Wedding-Rings.com.
About Mens-Wedding-Rings:
Mens-Wedding-Rings.com is a niche online jewelry store for men's wedding rings and bands. In this specialized retail environment, customers find the best quality men's traditional and alternative wedding rings. From major designer bands in traditional and alternative metals to non-designer rings in stainless steel, titanium, tungsten, sterling silver and cobalt, Mens-Wedding-Rings.com is a one-stop source for men's wedding bands and rings. Owners Roy and Judy Devine make it their goal to ensure their customers are completely satisfied, so they only sell high quality rings at excellent prices. All of their rings come with a 100% satisfaction guarantee, and their customers have come to expect the highest standards of service, selection and quality when they shop at Mens-Wedding-Rings.com. MWR offers the best selection of men's wedding rings on the Internet, many of which are available through size 20.
Contact information:
Roy & Judy Devine, Owners
Mens-Wedding-Rings.com
800.676.0363
http://www.mens-wedding-rings.com
Email: roy(at)mens-wedding-rings(dot)com
###