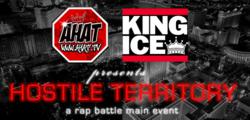 We are the hottest rap battle league on the planet as a result of our hot battles and cyphers, hot ring girls and literally hot Vegas weather
(PRWEB) February 07, 2012
KingIce, a leading internet retailer of urban jewelry is sponsoring AHAT.TV in "Hostile Territory" a premiere rap battle main event. Featuring multiple rounds of Acapella freestyle rap, battlers take turns eviscerating their opponents with a mixture of lyrical brilliance and comedy.
The lineup for "Hostile Territory" pits battlers from across the nation against Las Vegas natives. The live main event took place on January 22, 2012 from which battle content will be edited and released over a period of four weeks running through February 2012. Videos will be available on AHAT.TV and the AHAT Youtube channel boasting over 15,800,000 upload views and 21,000 plus subscribers.
"We are the hottest rap battle league on the planet as a result of our hot battles and cyphers, hot ring girls and literally hot Vegas weather," says Omar "OD" Davis, founder of AHAT.TV and local Las Vegas DJ at Power 88.
AHAT.TV is an urban rap battle league movement building a platform for raw, gifted, rappers to gain exposure and prestige. Along with major rap battle events, AHAT regularly host NEXT events (New Emcees Exhibit Talent), usually free, held on the streets, allowing new comers to build a name for the main events. Battlers are then ranked based on various criteria including their performance history and the quality of their opponents. The main events are held in Las Vegas up to 8 times a year.
AHAT.TV also offers cipher videos featuring Acapella live performances. Ciphers are written in advance, recorded live and released on a weekly basis. In addition, you can find exclusive interviews with artists and musical content on the AHAT.TV network.
As a leader in hip hop jewelry, KingIce is sponsoring AHAT.TV to assist in bringing exposure to a world of hip hop in its pure form. KingIce is constantly offering new products based on the latest trends and is focused on providing valued customers with quality merchandise, great customer service and fast shipping with a generous warranty. For more information, call 1-877-KING-ICE or visit KingIce.com.
###