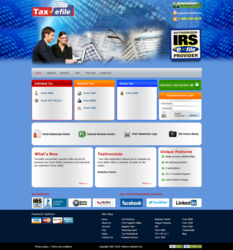 (PRWEB) February 07, 2012
Tax2efile is an online tax filing service designed to help individuals and businesses to file their federal tax return and extension with IRS. There service enables users to file their tax electronically as well as by traditional paper filing.
Tax2efile is recognized as a leader in E-Filing Services. With and easy to use website and Live customer support from an experienced and well trained staff Tax2efile is always offering their customers the best experience possible.
In keeping with tradition Tax2efile is always pushing forward offering their customers new and
innovative services designed to help individuals and businesses complete their tax filing needs.
New to these services is the E-filing of IRS Form 7004.
Form 7004 is the form used to file for an automatic extension of time to file your business tax return for a partnership, a multiple member LLC filing as a partnership, a corporation, or s-corporation.
Use Form 7004 to request an automatic extension of time to file certain business income tax, information and other returns. The extension will be granted if you complete and file the form by the due date of the return to which the Form 7004 applies, and pay any tax that is due.
###