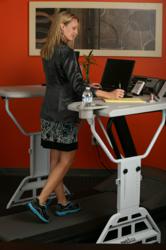 The benefits to owning a TrekDesk are many. I've personally felt more energy, a higher level of focus and less sleepiness in the afternoons.
Salt Lake City, UT (PRWEB) February 06, 2012
Alex Lawrence, a marketing expert and serial entrepreneur from Salt Lake City, Utah is often sought for his expertise on starting new companies. His problem solving abilities were put to the test after back surgery led to too many painful days at the office. His solution? A TrekDesk Treadmill Desk. TrekDesk worked so well for Alex that his firm Startupflavor (http://startupflavor.com) has launched an online contest for a free TrekDesk Treadmill Desk.
Alex explains his health transformation with the TrekDesk and motivation for sharing this with America. "I've had a TrekDesk for about a year. The main reason behind having a TrekDesk in my office is a bad back. I had surgery a year or so ago and sitting down for long periods of time is hard on my back. In addition, I'd read a number of articles on treadmill desks. The benefits to owning a TrekDesk are many. I've personally felt more energy, a higher level of focus and less sleepiness in the afternoons. While my poor eating habits haven't helped much, the TrekDesk has been a nice calorie burner, too. My problem is I'm not at my desk a lot, so therefore, I'm not on the TrekDesk as much. I actually crave being on it and often look forward to periods of uninterrupted work where I can really get some miles in. I can honestly say that I am not sick of it at all – that after nearly a year of use, I love it as much as the first week I owned it. This isn't a fad for me – it'll be something I will use for a long, long time.
"Pure and simple, America needs a Movement Revolution to improve its health," stated Steve Bordley, CEO of TrekDesk Treadmill Desks, "and that is the main mission of TrekDesk. Alex represents the grass roots nature of how the message of movement is currently progressing. Employees are not waiting for insurance companies or employers to tell them how to improve their health, they are doing this on their own."
Details of the free TrekDesk contest may be found on the Startupflavor website at http://www.startupflavor.com.
Designed to fit any existing treadmill, TrekDesk treadmill desk is an affordable, full sized, height adjustable workstation that allows individuals the opportunity to gain the necessary amount of exercise daily to maintain health, prevent disease, strengthen muscles, boost mood and productivity, without requiring additional time during the day or extra motivation. Workout at work with TrekDesk. No sweat!
TrekDesk is currently available for sale online at Amazon.com for $479.00 including free shipping.
Join the TrekDesk "Movement Revolution" to learn more, win a free TrekDesk or ask us any questions anytime at http://www.facebook.com/trekdesk, or follow us on twitter -http://www.twitter.com/trekdesk.
###