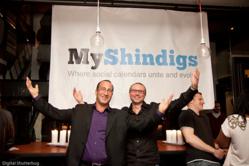 "In today's economy it seems like a good way for budding entrepreneurs, hosts, planners and promoters who want to be the life of the party to maximize profit potential from their shindigs."
Boston, MA (PRWEB) February 08, 2012
Back in the summer of 2009 two friends had a moment of insight in the midst of their more boisterous bachelor days. Confined by an inadequate online presence of social life management tools and the shortfalls of using your real identity in combination with work colleagues and those in your social circle on sites like Facebook; the idea of MyShindigs was born. It was to be a place online where you were free to socialize as publicly or as anonymously as you wished without losing your job at the law firm or local IHOP the next day because you were recognized by your boss in a photo from your buddy's house party or colleague's bachelor party holding an alcoholic drink in one hand and a brassier in the other.
The idea was a simple one; to develop a website and social software platform that let users plan, organize, manage and promote their public, private, social, and company parties. To play voyeur by peering into the lives of those you're interested in socializing with. The newly launched first beta version of the platform allows members to expand their social circle, meet and socialize with current and new groups of people around common interests and real life social activities. MyShindigs boasts new unique features like City Chaperone which involves members who are interested in showing visitors to their city where all the hot spots are around town, or another feature allowing the user to vote other users as party animals and party poopers. The site is fast gaining the attention of many new registrants which these Kings of Leisure refer to as The Shindig Nation.
MyShindigs offers a social gathering management software service intended for celebration, and recreation at all life stages for all ages whether it's your birthday, frat party, milestone anniversary, house warming, or retirement party. 'It's not only for the general public; companies, bands, cities may all join in the fun and bring awareness to their events. As well users may mingle with and rate service providers.' Says Jason Andrews and Matthew Tautt; Co-kings of leisure as the two founders have come to be known.
'When we first conceived of the idea we were getting bored of the usual dingy clubs and lack of interesting things to do around town and got really excited about the idea of creating your own adventure and the ability to invite yourself into new and different parties and events. Then we thought how powerful it would be for bands and brands to insert themselves into parties they think would have a relevant demographic. We wanted to invite all of the ingredients that make for a great party or shindig together and see what happens.' Says Matthew Tautt.
'What was initially intended for just the general public has evolved into a comprehensive option in the events management and promotion software space, but without the astronomical licensing fees because it's free.' Says Jason Andrews.
There are few current options for companies, charities and government institutions in helping to manage their organizational parties and events. One is to engage with enterprise level software that ranges from several thousand to hundreds of thousands of dollars in software licensing fees on an annual basis. A second option is to develop custom internal software. The last option on the other end of the fee spectrum lies in utilizing free social networking platforms that offer event invitation features and other very limited event and party management tools. Existing social networking platforms albeit inexpensive have many shortfalls for those engaged specifically in event planning and promotion and who have large databases of contacts. MyShindigs provides a robust web based social software platform that is highly focused, scalable and will be implementing increasingly more sophisticated and integrated event planning and management features.
'What drew us to this space was the fact that it was fun; even market research involved throwing large parties including a 1,000 person party we hosted at a historic castle.' Says Jay. 'Our site focuses strictly on managing and expanding your social calendar without the bombardment of unnecessary apps. It allows for better segmentation of your professional and social life and we've created a fun, safe, anonymous environment for people who like to socialize and network. You can subscribe to, follow and attend parties and events or allow others to follow yours.' Adds Matt.
In today's economy it seems like a good way for budding entrepreneurs, hosts, planners and promoters who want to be the life of the party to maximize profit potential from their shindigs.
The charismatic entrepreneurial duo says the best is yet to come in future beta releases and from the looks of it the party has just begun for MyShindigs.
About MyShindigs
MyShindigs is a social networking platform that specializes in allowing members to plan, organize, manage and promote their public, private and company events and parties. MyShindigs allows users to search out, share, follow and join each other's events and parties of interest to expand their social calendar throughout their lives. For more information, visit http://www.myshindigs.com.
###