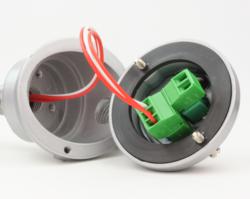 When you need a full featured RTD transmitter in a tiny package the T16 fits -- literally.
Minnetonka, MN (PRWEB) February 27, 2012
Burns Engineering is proud to unveil the T16, a miniature loop-powered RTD temperature transmitter integrated into a compact aluminum connection head. The T16 is designed for applications where additional signal enhancement is required and space is limited, such as process skids and small reactor vessels.
Although small in size, the T16 is a full-featured RTD transmitter which is easily programmed via PC to create a customized fit with most applications.
The T16 provides a N.E.T. Solution™ (No Exposed Threads) when paired with the Burns S01 Miniature Sanitary RTD, to meet the strict quality and cleaning requirements of the pharmaceutical, biotech and food processing industries
T16 Features and Benefits

Configurable to fit most applications
N.E.T. Solution™
PC programmable with TP16 Programming Module
Compact footprint: 2" x 2" x 2"
Accuracy: +/- (0.2°C + 0.05% of reading)
RTD input: 2 or 3 wire PT100
Temperature range: -200°C to 500°C
Output: 2 wire, 4-20mA
For additional transmitter options visit Burns Temperature Transmitters.
Burns Engineering designs and manufactures temperature measurement products for the Process, OEM and Metrology industries. Products include RTDs, Secondary SPRTs, Thermocouples, Thermowells, Transmitters and NVLAP Accredited Calibrations (Lab Code 200706). Learn more about Burns at http://www.burnsengineering.com or contact them directly via email or 800-328-3871.
# # #