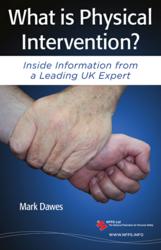 It is hard to get a man to understand something when his salary depends on him not understanding it.
(PRWEB UK) 8 February 2012
A new book - 'What is Physical Intervention?', written by Mark Dawes of NFPS Ltd, has highlighted the fact that many commissioning agencies and organisations are still only using physical intervention training providers that have been accredited by BILD (British Institute of Learning Disabilities) because they believe that the accreditation offered by BILD is in some way endorsed or approved by a Government department such as the Department of Health - but this is not so.
The book 'What is Physical Intervention?' contains correspondence between NFPS Ltd and various Government Departments that shows that BILD accreditation is only really recognised by BILD itself. It is not a standard that is supported, regulated, endorsed or promoted by the Department of Health, the Department for Education and Skills, the Care Quality Commission, or Skills for Care, or indeed any other Government Department. It is merely a system of accreditation by association.
The problem arises when BILD's name appears in various Government Departmental documents, such as the 2002 Department of Health guidance document; 'Guidance for restrictive physical interventions: How to provide safe services for people with learning disabilities and autistic spectrum disorder'. Due to this, some people, including NVQ assessors and CQC and Ofsted Inspectors, automatically promote BILD as the only recognised accredited source. However, this is in itself misguided and misleading.
After extensive correspondence with the Care Quality Commission and the Department of Health, they are now amending their current guidance (after taking advice from their legal team) and are removing BILD as an example of an accredited source for trainers in physical intervention. This was communicated to us in an e-mail received on the 15th December 2011 which reads as follows:
"Dear Mr Dawes,
My colleague [name withheld] contacted me yesterday with an update regarding your enquiry and our progress with the Department of Health (DH).
Since receiving the copy of the email response from [name withheld] that you kindly forwarded to us, [name withheld] has advised me that she has taken advice from our legal team and consulted the Department of Health about the options proposed by our legal team.
As a result of this dialogue, we have taken their views into account to amend our current guidance for inspectors about the use of restraint in regulated services.
The changes include removal of the reference to BILD as an example of an accredited source for trainers in physical intervention.
Kind regards,
[name withheld] National Customer Service Centre Officer Customer Services National Correspondence Team Care Quality Commission"
This also means that all of those training providers listed as accredited by BILD on BILD's Physical Interventions Accreditation Scheme web-page only hold accreditation recognised by BILD and not any Government department. 
All of our recent correspondence on this matter is available in our new book - 'What is Physical Intervention?' which I am sure will be of interest to anyone looking into the benefits of BILD Accreditation either as a commissioning agency or as a training provider. It may save you a lot of time and money.
Having provided training and consultancy to Awarding Body standard, to a wide and diverse range of public and private sector organisations for many years, as well as providing expert input into a House of Lords and House of Commons Joint Committee on Human Rights report, NFPS Ltd, founded by Mark Dawes, is now recognised as being one of the UK's leading organisations offering possibly the highest quality of training, consultancy and customer service in physical intervention and conflict management training in the UK today.
To read NFPS Ltd's Mission Statement go to: http://www.nfps.info/NFPS-Mission-Statement
###