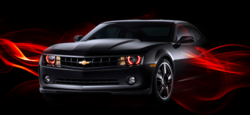 Salt Lake City, Utah (PRWEB) February 07, 2012
Amendment II is proud to announce the release of the world's lightest, most flexible, and universal vehicle armor. AII's revolutionary tactical armor, RynoHide™, has transformed armored vehicles. The first car to roll of the line is an amazing 2012 650hp Supercharged Camaro 2ss - completely bulletproof.
This mind-blowing car is just the beginning. Amendment II's cutting edge and patented technology makes it possible to armor virtually any vehicle using RynoHide™, the world's most advanced ballistic and shrapnel resistant combat material. The incorporation of RynoHide™ into any vehicle will provide protection from high velocity shrapnel and small arms fire. In addition, it is extremely lightweight and flexible. That sets this material apart from traditional armoring which can add 2,000 pounds or more to a vehicle's weight.
RynoHide™ can adapt to work in virtually any vehicle, be it air, land, or sea. This unique, flexible, and lightweight material will fit high-end vehicles, exotic sports cars; and it will even fit a convertible!
There is no sacrifice in quality using RynoHide™ armored cars. All vehicles maintain their integrity, and high level of performance because of the nature of the material. Because RynoHide™ is lightweight, there is no additional wear and tear on the chassis of the vehicle, need to reinforce the frame, or alter the suspension. Further, the flexibility and adaptability of the fabric do not compromise the body or interior of the vehicle. It is virtually unnoticeable to the vehicle operator.
What the driver does get is peace of mind, knowing that his or her vehicle offers one of the highest levels of protection available in armored vehicles.
The power, protection, and performance of RynoHide™ is now available.
Contact (RynoHide Car Armoring)
Rich Brand
rich(dot)brand(at)amendment2(dot)com
801.201.7878
Contact (Press)
John Fierro
john(dot)fierro(at)amendment2(dot)com
801.634.8894
All other inquirires:
800.992.8052
http://www.amendment2.com
# # #